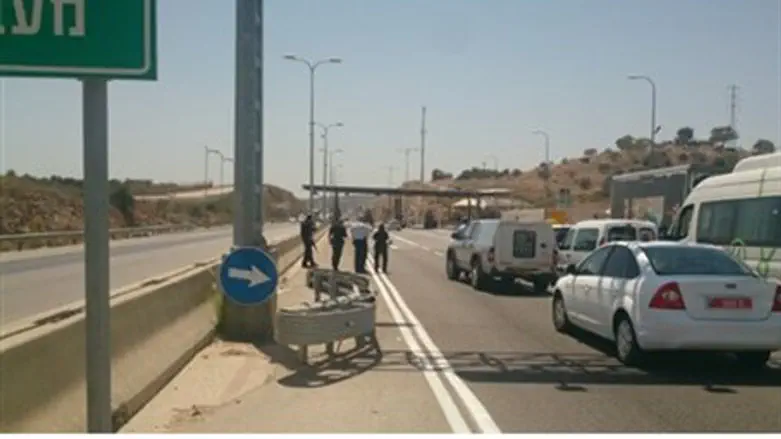 Highway 5 Checkpoint
Judea, Samaria Police
Palestinian Arab workers may be barred from Judea-Samaria buses in the future, Defense Minister Moshe Ya'alon indicated Sunday, after years of complaints from Jewish residents - especially women - that they were being harassed by the workers in transit. 
Ya'alon made the decision after a public hearing in November by MK Moti Yogev (Jewish Home) on the "nightmarish" state of travel in Judea-Samaria made clear the full extent of the crisis, which has intensified since a Central Command decision to allow the workers to take the busses, which are subsidized by Israeli taxpayers. 
In April 2013, Central Command decided to allow tens of thousands of Palestinian Arab workers to travel on the region's public transportation systems between Judea and Samaria and other parts of Israel, and allowed an additional 5,000 workers to be employed in workplaces outside of Palestinian Arab areas. 
In addition, due to years of not enforcing policies preventing Palestinian Arabs from moving illegally between regions in Judea and Samaria, tens of thousands have been taking public transportation within the region without proper documentation. 
All of these measures were enacted without consultation with the Ministry of Transportation, and without enacting counter-measures to add busses to existing lines and new routes for an increasing number of possible destinations. 
As a result, Israeli taxpayers in several communities along the roads leading out of Judea and Samaria, and along the road between Karnei Shomron and Kedumim, have been prevented entirely from alighting buses returning from the Center to their communities. 
At the November hearing, several Jewish women gave testimony, as well, over the harassment they suffered at the hands of the workers, and their inability to escape their assailants due to overcrowding. 
The danger is very real: car travel is too expensive for many families, due to both a 150% sales tax on new vehicles in Israel, and gas prices topping 7.66 shekel per liter ($6.50 per gallon). Bus travel and hitchhiking have become the primary means of travel for thousands of residents across 1949 Armistice lines. 
But the Transportation Ministry and Central Command justified the decision to allow the workers to continue using state money to travel between the PA and Israel - despite the fact that Israeli teenagers, mothers, and soldiers were being denied seats due to overcrowding and often faced threats if they did manage to board - claiming that it was a practical necessity to disprove claims of "apartheid" against Palestinian Arabs in Judea-Samaria. 
Ya'alon did not specify Sunday why the sudden decision had been made, nor when it would be implemented. It is unclear how permits for Palestinian Arabs will be screened, as well - since the ban is expected only to apply to Arab workers, not to students. 
However, it is worth noting that since the November hearing, several links have been made between terror within 1949 Armistice Lines and the Palestinian Arab workers outside of them - most notably, the horrific murder of 19 year-old Eden Atias, hy"d, the IDF soldier who was stabbed by a Palestinian teenager who had crossed into Israel illegally through the public bus system from Jenin.