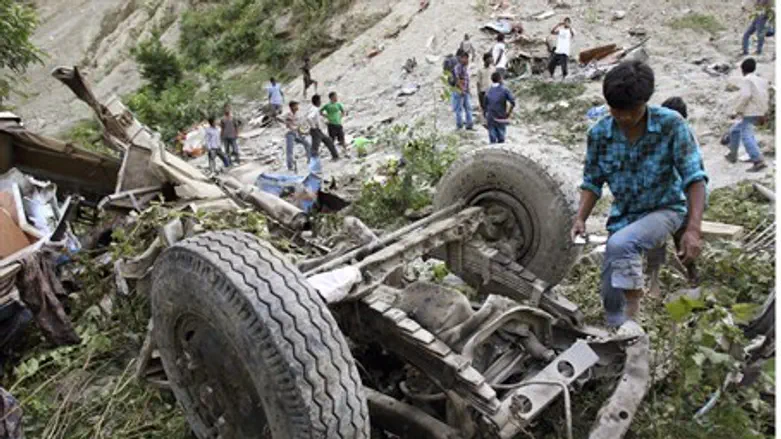 Nepal bus crash (file)
Reuters
A bus traveling from Kathmandu to Langtang has fallen off a cliff and into a ravine in the Himalayas, Nepalese sources told Arutz Sheva on Friday morning. 
The bus fell 150 meters (492 ft.) after coming off a narrow road in Belkot, Nuwakot district, about 75 kilometers (46 miles) northwest of Kathmandu, according to Kantipur Television.
Eleven people are reported to have been killed in the crash; 52 have been injured. 
Two Israeli women have been confirmed among the dead and three more are injured. An additional Israeli tourist, a man, is still missing. It is unclear how many Israelis had been on the bus - reports differ - but a consensus of reports indicates 6-7 Israeli nationals had bought tickets. 
Rescue forces are currently rushing to the scene, as are Chabad-Lubavitch emissaries Rabbi Hezki and Chana Lifschitz, who have been flown to the site by helicopter. 
Israeli ambassador to Nepal Yaron Meyer is also on his way to Langtang, to visit victims who were taken to hospital after the crash. 
Experts at the scene now say the bus flipped due to overcrowding on the bus - a danger on the winding mountain road.
Only sixty people were supposed to have been shuttled back and forth on the tour bus, but it was actually carrying over 100. Many people were sitting on the roof. 
This is the second tragedy in Nepal over the past month. An avalanche on the Thorong La mountain pass killed 30-40 people - including four Israelis - several weeks ago. 
At least four Israelis who had signed up for Friday's bus trip had changed their plans to hike up the Thorong La pass ahead of storm warnings before the avalanche, Walla! News reports.