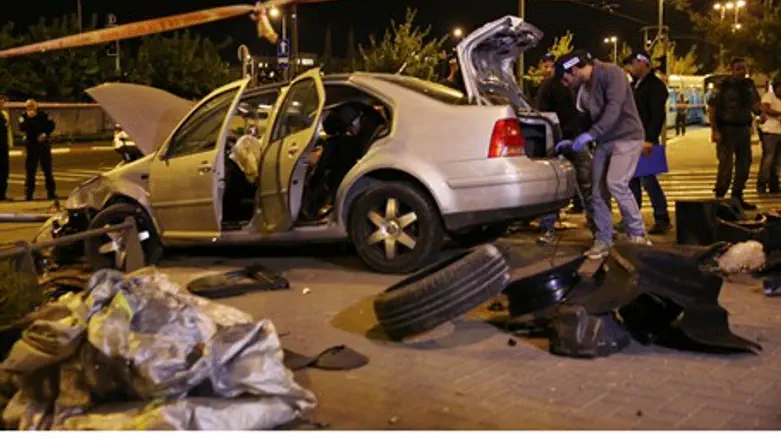 Shaludeh drove his car directly at a crowd of
Flash 90
Yet more footage from the scene of last night's deadly terrorist attack in Jerusalem has emerged. It illustrates with chilling clarity how terrorist Abdelrahman Shaludi drove purposefully into a crowd of pedestrians shortly after they disembarked from a train on the Jerusalem Light Rail.
Shaludi's family had claimed to reporters that the incident was an "accident", despite Abdelrahman being a member of Hamas with a long record of terrorist activity.
But the latest footage shows with chilling clarity how he drove his car purposefully and seemingly with great control through a narrow stretch of pavement between the Light Rail stop and the tracks beside it.
Witnesses of Wednesday's attack described how the car ploughed into the crowd at great speed.
"We saw a car coming from the north at full speed," said Eli Dayan. "We realised something was going on. He missed us by a few centimeters."    
Two other pieces of footage from the incident have also emerged.
One shows a car driving at full speed off the main road and down the pavement where people were standing as two trams passed each other.
Another clip shot on a cellphone showed the driver lying on the ground in a T-shirt and ripped jeans as a man pointed a gun at him.  
Three-month-old Chaya Zisel Braun was killed in the attack, and six others were injured - one, believed to be her mother, in serious condition, one moderately hurt and four with light injuries, medics said.