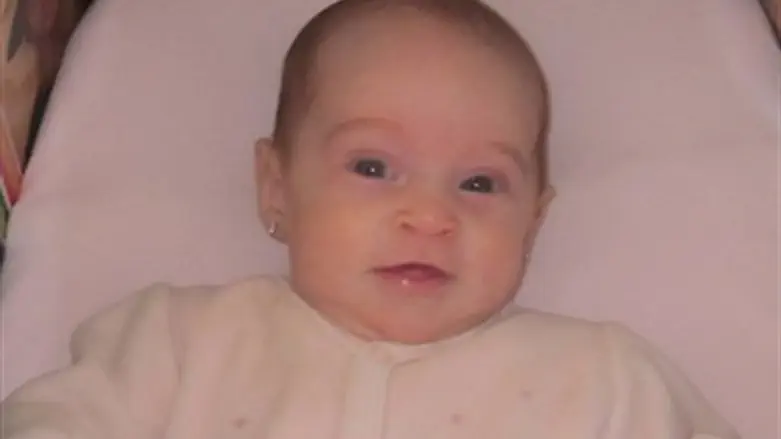 חיה ברון
באדיבות המשפחה
A baby girl was killed and eight people were injured Wednesday, after a terrorist hit them with his car outside the Givat Hatachmoshet (Ammunition Hill) Light Rail stop. 
"A private car hit passengers from the light rail near the police national headquarters. The car's driver attempted to escape and was shot, apparently by a police officer from the Jerusalem district," police spokeswoman Luba Samri said in a statement. 
Footage of the attack has now begun to circulate. The grainy security video appears to show a white car careening across the median and straight at pedestrians, mowing down one of them. 
Police have now confirmed (7:30 pm IST) that a Jerusalem police officer did shoot the driver, seriously wounding him after he attempted to flee from the scene on foot. 
One witness stated to the daily that the attack was "horrific" and that "people were screaming." 
The area has been closed to traffic until further notice. Magen David Adom (MDA) medics, Hatzalah crews, and police have swamped the area. 
A spokesman for the emergency services said three people were seriously wounded. Another two people were moderately hurt and four more were said to have sustained light injuries.
One of the wounded, a three month-old girl, died after being rushed to Hadassah Har HaZofim (Mount Scopus). She has now (8:00 pm) been named as Chaya Zisel Braun, hy"d. She will be laid to rest at Jerusalem's Har HaMenuchot cemetery at midnight. 
Shimon Helperin, the infant's grandfather, told Arutz Sheva that the Braun family - which had been waiting for a child for years - had been returning from prayers at the Western Wall (Kotel) when they were struck by the terrorist. Helperin and his wife had arrived in Israel specifically to meet their grandchild on Wednesday and was forced to go immediately to the hospital, instead. 
Hamas welcomes attack
The Arab driver has now been confirmed (7:40 pm IST) to have been resident of the Shiloach/Silwan neighborhood and a member of Hamas - and to have served in Israeli prison before for terrorism, according to Police Spokesperson Micky Rosenfeld. 
"This is a natural response to the crimes of the occupation and invasion of our land by the Jews, particularly on the Al-Aqsa Mosque (Temple Mount - ed.)," Hamas spokesman Hossam Badran stated on official Hamas television. 
Hamas television has also confirmed the identity of the terrorist - who was shot and wounded by police, but is not dead, as initially reported in the press - as 21 year-old Abdelrahman Shaludeh of Shiloach (Silwan). Shaludeh had previously served in Israeli prison for terrorist activities. 
Jerusalem's alert level has also been heightened until further notice, police said Wednesday night. 
Hours later, close to 10:30 pm IST, Palestinian media reported that the police had entered Shaludeh's family home to gather evidence and confiscate terror materials. Shaludeh's father - who is also the brother-in-law of one former head of Hamas's "military wing," the Al-Qassam Brigades, according to Walla! News - reportedly physically confronted police. 
The attack surfaces just hours after Jerusalem Police District Commander Moshe Edri announced a "comprehensive plan" for a new task force to battle the cycle of ongoing violence in Jerusalem, which has been named the "silent intifada." 
Special surveillance was ordered to be set up around the Jerusalem Light Rail - which has been an ongoing flashpoint for violence over the past several weeks - including setting up observation balloons. 
Reactions pour in
Meanwhile, police and politicians are beginning to react to the attack. Blame is being put, as has throughout the past several months, on Internal Security Minister Yitzhak Aharonovich and the Israel Police, specifically Commissioner Yohanan Danino. 
Aharonovich has just arrived at the scene of the attack (update: 7:50 pm IST) and confirmed that it is a terror attack. 
"All indications are that this was a terror rampage," Aharonovich stated, according to Yediot Aharonot. "In the past the driver was in jail; the police and the Shin Bet continue to investigate." 

"This is not simply an attack," he added. "We must assess the situation throughout the city, including the riots. I spoke to the Prime Minister and asked to reinforce the border patrol forces."
"We must restore calm to the city." 
Jerusalem Mayor Nir Barkat has also released a response. 
"We must restore peace to Jerusalem - as I said for months, the situation in Jerusalem is intolerable and we must be acting unequivocally against the violence taking place in the city," Barkat stated.
Progress with Danino and Aharonovich had stalled so much that he turned directly to Prime Minister Binyamin Netanyahu to stop the "silent intifada."  
"Now it is clearer than ever that the police must be put into Arab neighborhoods where there are disturbances, that checkpoints must be established, and that a significant presence must be felt," Barkat added. 
"At my request, the Prime Minister has instructed to reinforce the police to be able to operate and carry out operations against rioting, including the addition of personnel and special units, using new technology, and increasing intelligence," he continued. "I'll continue to be vigilant and will not rest until security returns to Jerusalem."
Prime Minister Binyamin Netanyahu specifically blamed the Israeli Arab leadership for the attack, in remarks made to the Government Press Office during a security briefing on the attack.
"This is how Abu Mazen [Palestinian Authority Chairman Mahmoud Abbas - ed.]'s partners in government act, the same Abu Mazen who – only a few days ago – incited toward a terrorist attack in Jerusalem," the Prime Minister said.
Updates to follow. 
credit: חזקי עזרא
credit: חזקי עזרא
credit: חזקי עזרא
credit: חזקי עזרא
credit: דוברות המשטרה
credit: דוברות המשטרה
credit: פלאש90
credit: פלאש90
credit: פלאש90
credit: פלאש90
credit: משטרת ירושלים
credit: דוברות המשטרה
credit: חזקי עזרא
credit: חזקי עזרא
credit: חזקי עזרא
credit: חזקי עזרא
credit: חזקי עזרא
credit: חזקי עזרא
credit: חזקי עזרא
credit: חזקי עזרא
credit: חזקי עזרא
credit: חזקי עזרא
credit: חזקי עזרא
credit: חזקי עזרא
credit: Anshel Beck
credit: Anshel Beck
credit: Anshel Beck
credit: Anshel Beck
credit: Anshel Beck
credit: Anshel Beck
Aharonovich at the scene
credit: פלאש90
credit: פלאש90
credit: פלאש90
credit: פלאש90
credit: פלאש90
credit: פלאש90