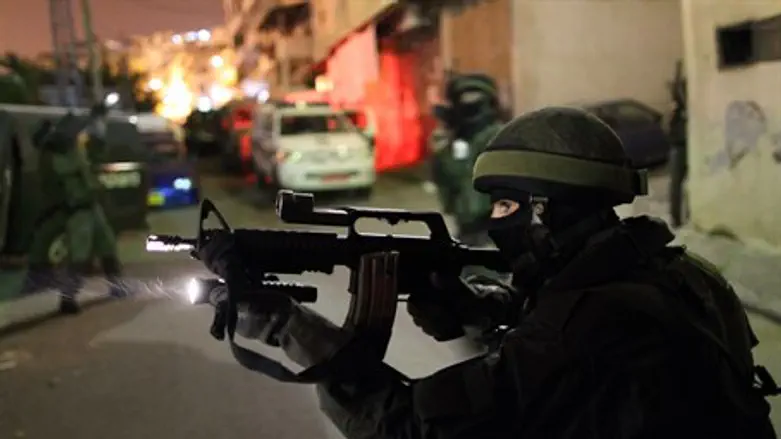 Yassam special forces in Jerusalem
Flash 90
Jerusalem District Police Commander, Major General Moshe Edri, presented a comprehensive plan to quell Jerusalem's "silent intifada" on Wednesday - one day after declaring intent to form a new task force to combat the violence. 
The plan includes reinforcing police officers, including special forces (Yamam) in both covert and overt operations against rioters in the holy city, and incorporating new technologies to fight the violence, Edri said, in coordination with the Jerusalem municipality.
Checkpoints have also been set up and surveillance is now being kept at the Jerusalem Light Rail station in Shuafat, he added - one of the biggest flashpoints for Arab violence. 
Violence in Jerusalem has been snowballing, with the "silent intifada" that broke out after the "revenge killing" of Arab teen Mohammed Abu-Khdeir by a mentally unwell man in July after the abduction and murder of three Israeli teens resulting in a constant cycle of violent Arab rioting. 
According to the most recent Israel Security Agency (ISA or Shin Bet) report on Jerusalem, terror has risen dramatically in the city since then - from 22 incidents in May and June to 152 in July and August, a whopping 509% increase. 
While the Israel Police stated at the end of September that over 600 arrests had been made, it did little to stop the constant cycle of violence. 
Both Police Commissioner Yohanan Danino and Interior Security Minister Yitzhak Aharonovich have faced much criticism over what many perceive as an inadequate response to the attacks - prompting both much drama around goings-on in the police and Tuesday's announcement of the task force. 
Danino finally announced the decision for a comprehensive solution on Tuesday. 
"We are moving ahead with a comprehensive program incorporating the latest technology, intelligence gathering and the establishment of a new police unit for dealing with incidents," Commissioner Yohanan Danino told officers.
"Jerusalem residents are entitled to a high level of personal security...and the issue is at the top of Israel Police's priorities," he said in remarks carried on the force's official Twitter feed.