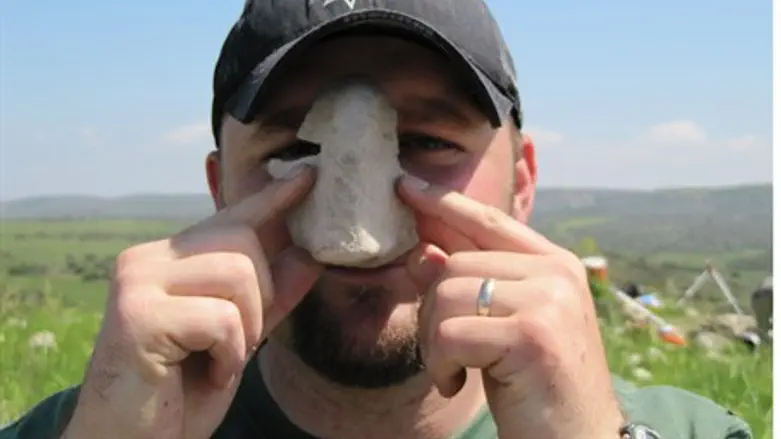 Remnants of a mask discovered at the site
Courtesy of the Tel Burna Excavation Project
A 3,300-year-old building where pagan rituals took place has been found at the Tel Burna site by Dr. Itzhaq Shai, head of the Institute of Archaeology at Ariel University in Samaria, who will discuss the find on Wednesday at the Bible Lands Museum in Jerusalem.
Tel Burna has been associated with the Biblical city of Libnah in Judea by some archaeologists, and is located above Israel's coastal plain five miles east of the modern city of Kiryat Gat between it and Hevron.
Given the building's age of 3,300 years, the find may possibly shed light on life in ancient Canaan around the time of Joshua's conquest of Israel as recorded in the Torah.
Evidence of ritual practice at the site was recently unearthed by Shai and his team, with relics including cultic figurines, goblets, chalices, and various vessels, as well as fragments of ceremonial masks.
"It could be that this was in fact a palace; we cannot be certain at this point so I'm not saying conclusively that this was a temple," said Shai, noting that the masks found were often worn by priests.
The Tel Burna excavation site Courtesy of the Tel Burna Excavation Project
The finds were made in a large complex, featuring a courtyard that itself is as large as 16 by 16 meters - an analysis of excavated materials is currently ongoing at Ariel University.
Since excavations are still not completed a definitive analysis as to the nature of the building has not yet been given, but Shai argues "this is definitely an important building reserved for the elite, it is clear ritual practices took place here."
Another unusual find was made at the site, where two very large ceramic storage jars known as pithoi were located in the submerged courtyard. Together, they would have been able to store around 200 liters.
"To find these vessels in a small town that is not part of a port is very surprising," said Shai, in what may indicate the importance of the site.
Shai intends to expand on excavations in the site during the coming season, and hopefully dig deeper into the secrets of the ancient building.
Cypriot zoomorphic vessel found at the site
Courtesy of the Tel Burna Excavation Project