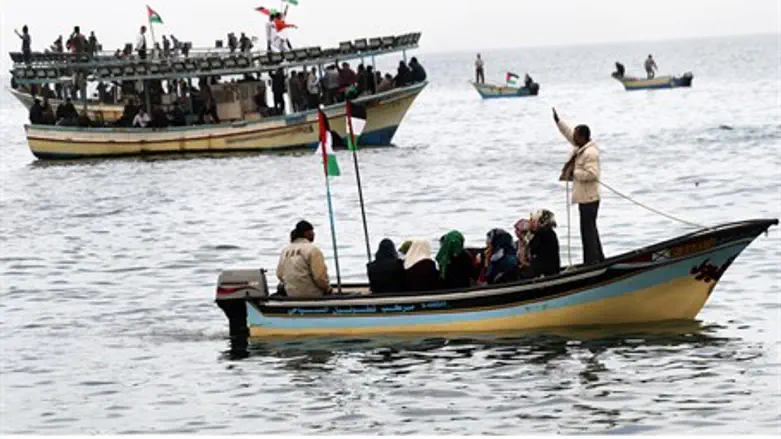 Gazan fishermen challenge naval blockade in b
Flash 90
Israel's navy arrested seven Gazan fishermen offshore from northern Gaza on Wednesday, officials on both sides said, with the army reporting the boats had breached the permitted fishing limit.
"The Israeli navy arrested seven fishermen from one family in Sudaniya in the sea off northern Gaza," the head of the Gaza fishermen's syndicate, Nizar Ayash, told AFP.
IDF sources confirmed the arrest of seven fishermen on two boats, saying they had breached the six-nautical mile fishing limit imposed as part of Israel's naval blockade, designed to prevent weapons smuggling and terrorist attacks by sea.
"This morning, two vessels sailed beyond the permitted fishing zone," a spokeswoman told AFP, saying troops had fired warning shots to halt them that were ignored. 
Troops then fired rubber bullets towards the boats, wounding one of the fishermen "very lightly." All seven were taken in for questioning.
The infringement today comes as part of a recent increase in naval skirmishes, with IDF officials warning on Sunday of a systematic effort to weaken the naval blockade and inch towards Israeli shores.
Naval Corps officers revealed that fishermen have begun casting their lines beyond the naval boundary - "systemically deviating" from the August 26 ceasefire agreement while also making obscene gestures at soldiers and ignoring calls to remain within the naval limit. 
However, Ayash turned the situation on its head by playing victim, saying "since signing the truce, the Israeli army has violated (the agreement) eight times, arresting fishermen and destroying a giant fishing boat, in addition to firing at fishermen on a daily basis."
AFP contributed to this report.