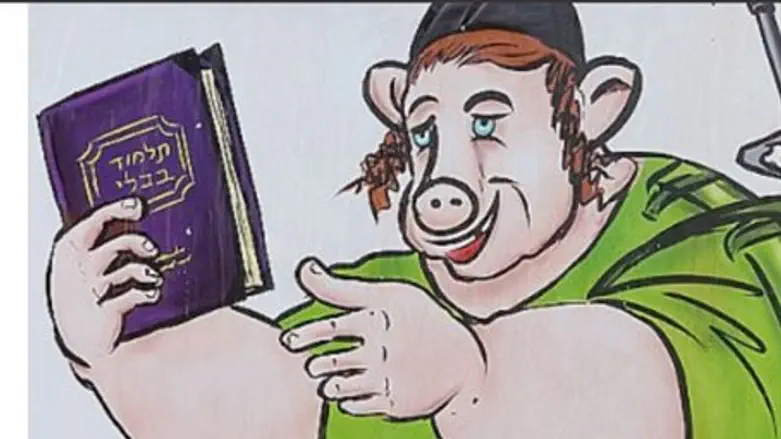 קמפיין החרד"קים
צילום
Official action is being taken over the offensive posters showing religious IDF soldiers as pigs on Monday, one week after they have begun circulating again in hareidi neighborhoods such as Meah Shearim and Bnei Brak.
Yesh Atid MKs Shimon Solomon and Ronen Hoffman have filed a police complaint with the Tel Aviv District Police over the brochures, under charges of incitement to violence and insulting a public official. 
At the same time, the two have also sent a letter to Attorney General Yehuda Weinstein, demanding that a criminal investigation be launched into the posters, as well as into the mounting incidents of incitement against the IDF by the hareidi community. 
"In the past two years, we see campaigns inciting vulgar, slanderous and harmful acts against hareidi IDF soldiers every few months," said Solomon.  "This anonymous movement has been inciting harm against civil servants, and all this talk of 'sin' [for joining the IDF - ed.] is just [reluctance to] comply with the law, to fulfill their duty to the society in which they live." 
He said the public should be protected from such extremists, and added a note of sympathy for the hareidi soldiers who have been attacked, verbally and physically, over the past several months, for their service. 
"It is inconceivable that a Jew cannot walk down the street or pray in a synagogue without fear of being attacked, physically or verbally," Solomon added. "I expect the Israeli police to act quickly and decisively to put an end to this dangerous phenomenon and bring those responsible to justice."
The Equal Burden of Service Law, which was ratified last year with the aim of to raising IDF conscription rates in the hareidi community, has also sparked a legal and social circus over what some claimed constituted "anti-religious" sentiments behind the law. 
Hareidi groups have published several campaigns not only discouraging their members from serving in the IDF, but also portraying IDF soldiers who do serve as pigs or vermin. 
Outrage over the campaigns has heightened considerably over the past several months - after a series of attacks left Orthodox soldiers fearing for their physical safety and after Hamas retweeted this particular poster as part of its own incitement campaign.