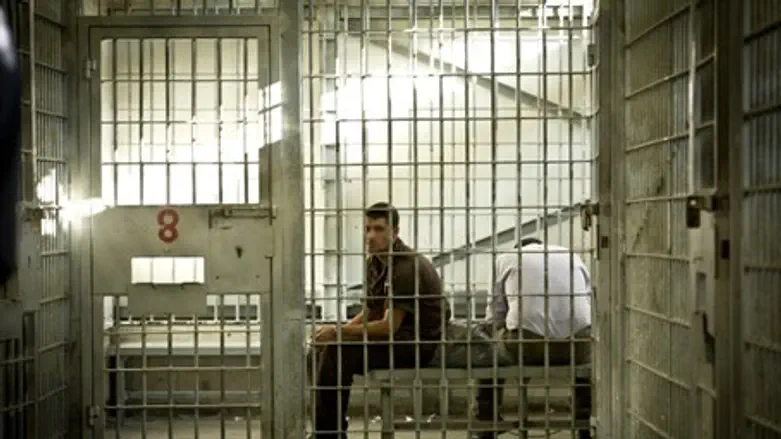 Jail (illustrative)
Flash90
A group of Dutch Christians vowed to boycott a Church's exhibition on "jailed Palestinian children," a member of the group told the Trouw daily newspaper, over protests that the art display promoted anti-Semitic views. 
The Dutch Coalition for Palestinian Children in Israeli Detention brought the exhibition to Utrecht's famous Domnkerk Church, or St. Martin's Cathedral, last month, under the title "Room No. 4." 
The exhibition showed adults portraying "suffering Palestinian children in Israeli detention," and implied that the IDF is torturing Palestinian Arabs in prison.
Several of the photos have crucifixion images, according to the Jewish Telegraphic Agency. Less graphic portrayals have been heavily promoted by the Coalition on Twitter. 
Hebe Kohlbrugge, a writer and a member of the Domkerk Church, boycotted the exhibition for its entire run. He told the Trouw that outrage has been sparked over the fact that, in his words, many Dutch people automatically associate "Israelis" with "Jews" - and that showing an exhibit like this was tantamount to anti-Semitism. 
"Many people cannot differentiate between Israel and Jews," Kohlbrugge stated. "People wearing kippot (yarmulkes) are being harassed over Israel's actions. Thus criticism of Israel becomes anti-Semitism."
Kohlbrugge also noted that the church itself has a history of anti-Semitism.
"Before you point fingers, better look at the ones pointing in your direction," he added.
Misconceptions over Israel's detention of minors are common, after one-sided reports blaming Israel for detaining Arab minors - regardless of criminal history or involvement in such terror acts as rock-throwing or rioting - were heavily promoted by UN rights group UNICEF. 
UNICEF's own report acknowledges that most "children" arrested by Israel are teenage boys, many of whom are likely to have been involved in Hamas or Fatah "summer camps" for Palestinian incitement against Israelis. 
Its statistics are also misleading. In its initial report, it maintained that some 216 prisoners were minors, but statistics released later by the International Centre for Prison Studies say that just 0.9% of Israeli prisoners are minors - between 170-180 people in total. (At the time, there were 19,358 inmates in Israeli prisons nationally.) 
Meanwhile, reports of mistreatment in Israeli prisons have left lawmakers bemused, with some noting that conditions in Israeli prisons are "like one big summer camp," and have protested since as far back as 2008 that Arab prisoners, specifically, receive special treatment.