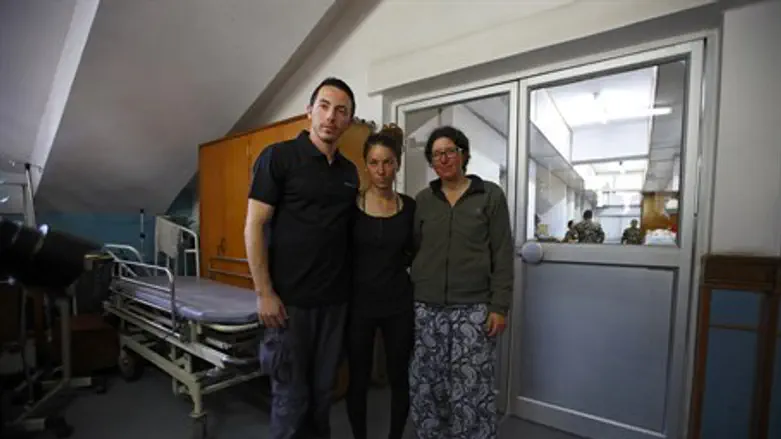 Rescued Israeli hikers in Nepalese hospital
Reuters
Once of the main sources of information coming out of Nepal after the recent deadly avalanche has been the country's Chabad Center in the country's capital, Kathmandu. Israeli Rabbi Hezki Lifshitz, who runs the center, has been following developments closely; at least three Israelis are among the dead and 13 others were wounded in the disaster.
Speaking to Arutz Sheva Thursday evening, after the Shemini Atzeret-Simchat Torah festival, Rabbi Lifshitz said that in all likelihood the Israeli death toll was likely to rise.
"I can't expand much further than what has already been published in the Israeli media," he said, "but the (current) number of Israeli dead is not final."
The Chabad Center had played an active role in relief efforts following the avalanche, receiving dozens of frostbite victims and providing them with support and treatment where necessary.
"The ones operating in the field are the Nepalese army. That said, we are here to provide support as required to the Israeli Embassy staff and to Israeli tourists," he added. "We are trying in every way possible to reach as many hikers as we can who are still trapped on the ground."
He said Chabad volunteers were helping to locate people still stranded.
"We know of several hikers who are still at the (disaster) site, but at this point in time it is not possible to reach them. We hope that this tragic event will end as quickly as possible and with as little loss of human life as possible."
Among the three Israeli tourists confirmed dead in the disaster is Lt. Tamar Ariel, 25, of Masuot Yitzchak - Israel's first religious female air force navigator.
The other two victims have been identified as Agam Luria, 23, of Kibbutz Yifat; and Nadav Shoham of Mitzpe Hoshaya in the Galilee.
Thirteen Israeli hikers are hospitalized at the military field hospital in Nepal following the disaster. Seven of them are very lightly injured and are expected to be released soon, and probably return to Israel. Six others will remain hospitalized and probably will be transferred to other hospitals.
All in all, 135 Israelis who are in Nepal have yet to contact their families but it is believed that most of them will do so in the coming hours.