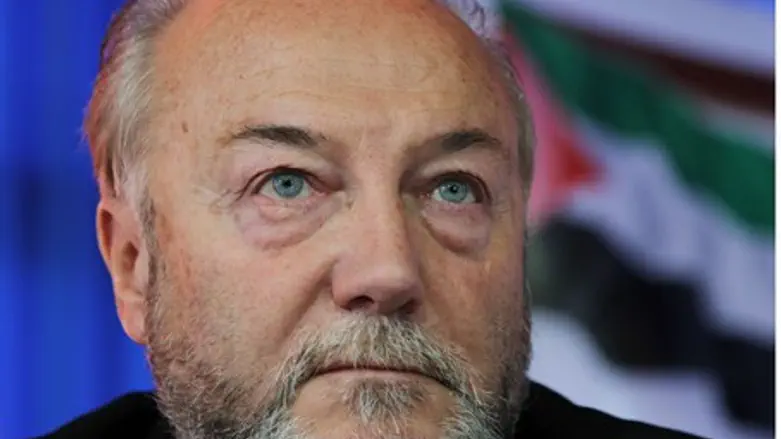 George Galloway
Reuters
Anti-Israel British MP George Galloway will not be prosecuted over remarks in a speech during which he declared that his constituency, Bradford, was "an Israel-free zone", reports Jewish News Online.
The comments, made by the Bradford West MP in August, caused an outcry on social media and complaints were made to West Yorkshire Police.
On Wednesday, the force said the Crown Prosecution Service (CPS) did not believe there was sufficient evidence to support charges but also said it had logged it as a "hate incident".
Chief Superintendent Paul Money, Leeds District Commander, said, "West Yorkshire Police received a number of complaints about the content of a speech made by Bradford MP George Galloway on August 2 this year."
"A full investigation has been carried out, which included Mr. Galloway being voluntarily interviewed under caution. A file was submitted to the Crown Prosecution Service for advice on whether any offences had been committed and they have now concluded that there is insufficient evidence to support any charges," he added.
Galloway responded to the news, saying, "This has been an extremely expensive waste of police and CPS time forced on them by ultra-Zionists who were pursuing a vendetta against me."
"My comments were aimed at the state of Israel, which – I repeat what I said at the time – is an illegal, savage and barbarous state, and had nothing whatever to do with race or religion," he declared.
"I take back not a word and I will continue to forcefully condemn Israel. It remains the case that there is a worldwide boycott of Israel, its goods, its services, its academics," said Galloway.
"I hope the citizens of Bradford will join me in refusing to treat with the advocates of this hateful and oppressive regime and truly make Bradford an Israel-free zone."
Galloway has a long history of anti-Israeli bigotry. He was branded a racist when he stormed out of a debate after finding out that his opponent was Israel, saying "I don't debate with Israelis."
In addition, he has publicly aired several bizarre anti-Israel conspiracy theories, including claims that Israel was engineering unrest in Ukraine, and that the Jewish state had given chemical weapons to Al-Qaeda - comments he then denied making despite them having been recorded.
Following his declaration of the "Israel-free zone", Israel's ambassador to the UK, Daniel Taub, visited the city of Bradford in "defiance" of Galloway's "decree".
Galloway expressed anger and frustration over Taub's visit, saying it was "a provocation to the 10s of 1,000s of people in Bradford who regard the Israeli ambassador as the plenipotentiary of a rogue and terrorist state."
(Arutz Sheva's North American Desk is keeping you updated until the start of Shmini Atzeret and Simchat Torah in New York. The time posted automatically on all Arutz Sheva articles, however, is Israeli time.)