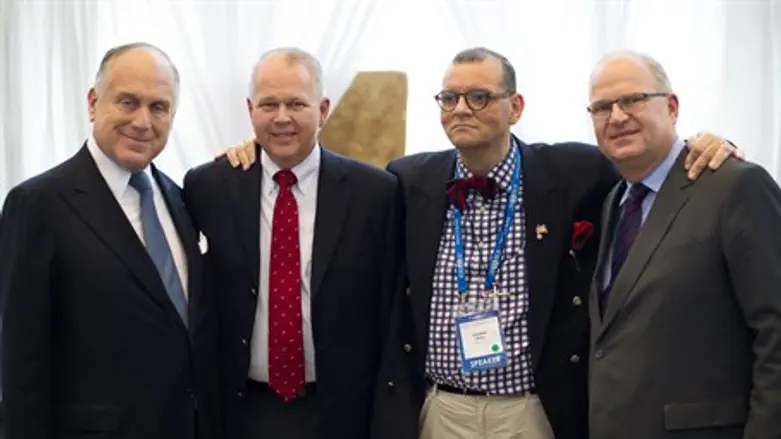 Christian, Jewish Leaders: Save ME Christians
International Christian Embassy Jerusalem
Prominent leaders of major Jewish and Christian global organizations announced a "historic" joint initiative on Monday, calling on world leaders to take urgent, determined actions to halt the brutal persecution of Christians in the Middle East in a Jerusalem press conference. 
The joint initiative was unveiled at the Sukkot (Feast of Tabernacles) celebration sponsored by the International Christian Embassy Jerusalem, with some 4,500 Christians from 80 nations in attendance.
The alarming situation for Christian minorities across the Middle East continues to worsen even while world leaders have largely ignored this on-going human rights tragedy, laments a letter recently sent to heads of state for 95 democratic countries.
The letter was signed by several dignitaries and chairmen, including ICEJ executive director Dr. Jürgen Bühler, World Jewish Congress (WJC) president Ronald S. Lauder, and Dr. William M. Wilson, co-chairman of the Empowered21 Global Council and president of Oral Roberts University.
Dr. Bühler noted that the participation of Lauder as head of the main umbrella organization representing world Jewry, together with leading Evangelical ministries, makes this event "historic." 
"The current plight of Middle East Christians is heart-breaking and even western churches have to do more to bring the suffering of our fellow believers to the forefront worldwide," said Dr. Bühler. "But to have a prominent global Jewish leader lend his voice to this moral call for protecting the region's persecuted Christians is unprecedented in modern times. We welcome all others of goodwill who will take a stand now for these vulnerable ancient Christian communities."
"Just as Christians defend Jews against anti-Semitism, just as Christians support Israel, we Jews have an obligation to speak out against the growing persecution of Christians in many parts of the world," Lauder said in explaining his participation as head of the WJC. 
"Islamist extremists have launched a full-fledged assault on our Western values, on our civilization, and Jews and Christians must work hand in hand to defeat this threat. For too long, the world has remained silent in the face of this evil. We must act before it is too late," Lauder added.
"This letter gives an important voice to Christians who are being persecuted and even killed for their faith around the world, especially in the Middle East," said Dr. Wilson of ORU and Empowered21, a major network of Evangelical leaders worldwide. "In this age of technology, we have a greater awareness of these types of alarming oppressions and a greater responsibility to protect Christian communities. Most Christ followers in these difficult situations will not respond with violence and therefore need global governmental authorities to stand with them against these injustices."
All three signatories on the letter addressed the press conference on Monday afternoon at the new Jerusalem Pais Arena, where the ICEJ's annual Feast of Tabernacles is being held.
Also on hand to speak will be Canon Andrew White, known as the 'Vicar of Baghdad,' an Anglican cleric who has become the leading voice of the battered Christians of Iraq. 
Later on Monday evening, Israel's President Reuven Rivlin along with Lauder will deliver greetings to the mass Christian gathering for the biblical festival of Sukkot. The audience will include some two dozen parliamentarians from around the globe who are attending the yearly Chairmen's Conference of the Israel Allies Foundation, an interparliamentary forum of pro-Israel legislators.
The lawmakers also are expected to speak out against the persecution of Christians in the Middle East, among other issues to be addressed by the Chairmen's Conference.