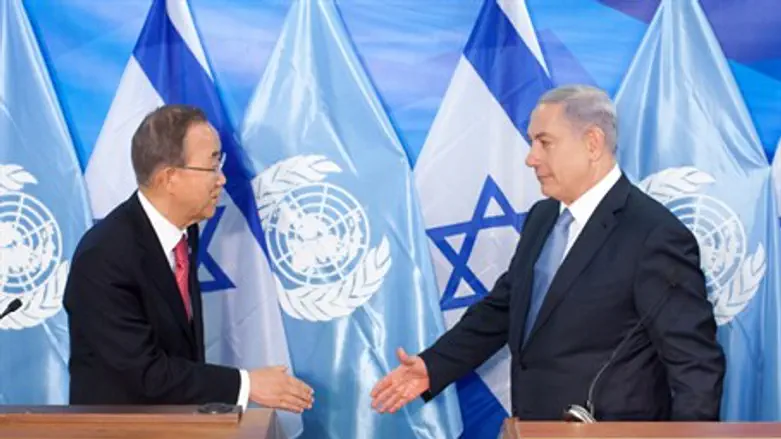 Confronting ideas: UN Secretary Ban Ki-Moonme
Flash90
Israeli Prime Minister Binyamin Netanyahu fired at UN Secretary General Ban Ki-Moon's insistence that the "occupation" justified Hamas's launching over 3,600 rockets on Israeli civilians on Monday, in a series of remarks before a private meeting with the international figure. 
Netanyahu began by noting that the entire concept of an "occupation" in Gaza has been made moot after the 2005 Disengagement. 
"The root cause of the violence that burst from Gaza is not Israel's occupation in Gaza, for a simple reason: Israel doesn't occupy Gaza," Netanyahu explained. "Israel left Gaza to the very last centimeter, to the very last inch. We uprooted all the settlements and vacated all the settlers. So there is no Israeli occupation of Gaza."
Netanyahu then pointed out that Ban justified Hamas's rocket barrage despite the fact that it used the UN's own facilities to break international law. 
"The root cause of this summer's outburst of violence was Hamas' rocketing of Israeli cities, and these rocket attacks often exploited UN neutrality, using UN facilities and UN schools as part of the Hamas machine of terror," he thundered. "And when rockets were discovered inside UN schools, some UN officials handed them back to Hamas – that very same Hamas that was rocketing Israeli cities and Israeli civilians."
The Prime Minister then reiterated the fact that Hamas is a terror group dedicated to genocide against Jews. 
 "The root cause of Hamas' rocket fire on Israel is Hamas' opposition to Israel's very existence," he declared. "Hamas doesn't give a hoot for the 1967 lines. For them, Israel has no right to live, in any borders. Hamas rejects our very existence. They're committed to killing every Israeli and every Jew. You just have to read their charter – they say that very plainly."
"So Hamas is the enemy of all of us who seek peace," he continued.
Netanyahu did insist that peace, however, could "only be achieved" through peace talks - slamming as well the Hamas-Palestinian Authority (PA) "unity government"'s pledge to prosecute Israel in the International Criminal Court (ICC). 
"A real peace can only be achieved through bilateral negotiations with those who believe in peace," he said. "I believe that unilateral steps by the Palestinians at the United Nations will not advance peace. I think they'll do the very opposite. They'll bring about a further deterioration in the situation – something none of us want."
The PA has been threatening for years that it will sue Israel at the ICC. The PA's Foreign Affairs Minister, Riyad al-Maliki, recently met with ICC officials and inquired about the legal procedures necessary for the PA to join the ICC and sign the Rome Statute, thus allowing it to take action against possible Israeli war crimes in Gaza.
That move came after the PA requested to join 15 international agencies in breach of the conditions of the peace talks that were going on with Israel at that time.
A senior PA official recently said, however, that Abbas had blocked the initiative to turn to the ICC in order to push forward a new peace talks bid.
If a deadline is not set for Israel's withdrawal from Judea-Samaria, however, the PA has threatened to go ahead with the push anyway - despite the fact that experts say it, not Israel, is likely to be persecuted over war crimes.