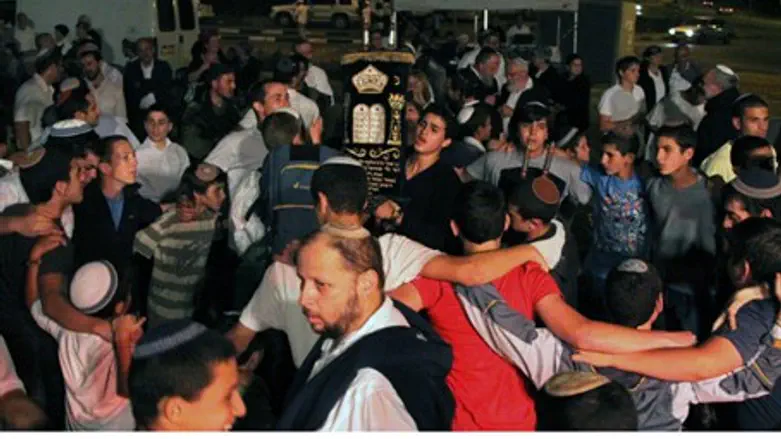 Simchat Torah (illustrative)
Flash90
A national-religious rabbinical organization has advocated the inclusion of women in Simhat Torah celebrations, ruling that women can - and, indeed, should - be allowed to dance in the women's section of the synagogue during the hakafot prayer service. 
The Beit Hillel (lit. "House of Hillel") rabbinic organization released a ruling in its pre-holiday booklet earlier this week stressing to its rabbis the importance of including the 'peripheral' congregants often left wanting from the yearly dance with Torah scrolls, including women and the elderly. 
Women in Israel - unlike in many religious communities in the Diaspora - have been traditionally confined to remain standing in the women's section, silent, waiting for the men to finish dancing to resume prayer. But this year, the rabbinic organization challenged why women should be left out - within the standard bounds of halakhic (affirming to Jewish law) modesty, of course. 
"Some women are perfectly content with the normal state of affairs, and we are not looking to intervene with tradition if this is so," the organization began in its ruling. "But there are many women who leave synagogue on Simhat Torah who have a distinct sense that 'this is not my holiday.'" 
Beit Hillel stressed that a sudden return of women to inactivity in public life - in those spheres where women are already active in synagogue or religious life - may be uncalled for. 
"In our generation, many women are partners in prayer and in the activity of the community, as in other parts of their lives and the lives of the public," the ruling noted. "If these women's participation amounts to watching Simchat Torah through the women's section or even making the refreshment table for afterwards, this is a sad state of affairs. This weakens the minds of the women themselves, who want to take part in public and express emotional linkages with Torah and Talmud."
Broad rabbinic shoulders
For the ruling, the organization cited the broad shoulders of Rabbi Yehiel Weinberg, author of the authoritative work Sridei Esh (1884-1966),  who served as a model for Orthodox norms and rulings for much of Diaspora Jewry during his time.
Rabbi Weinberg, at the time, dealt with the influences of modern European society on what was once a more cloistered generation of European Jews. He is perhaps best known for allowing men and women to sing Shabbat songs together and for mixed youth groups (although not mixed schools) for the sake of keeping younger Jews interested in their heritage. 
"The situation has changed in our time and changed in nature, and if women will remain home and be forgotten in the synagogue they will forget Jewish culture and doctrine entirely," Rabbi Weinberg warned at the time. His words were cited by Beit Hillel in the ruling. "We certainly must not drive them away with the 'bad smell' of excessive stringencies, which have no solid foundation in the Talmud and Jewish law."
Beit Hillel stressed, however, that it does not seek to ruffle the feathers of already-established traditional norms where there is no need to do so, and offered several options for communities already seeking to include women more in the traditional celebrations. 
While holding a separate women's dancing (behind a partition or in a separate hall) is one option, other options include holding women's classes or consulting with them on songs to be sung during the celebration. 
All-inclusive
Beit Hillel, comprised of national-religious rabbis throughout Israel, already has a history of seeking to include women and other segments of the Jewish population in its activities. 
The organization - which stresses on its official website that "we believe in the immortality of the Torah of Israel, and are absolutely committed to Jewish law" - also seeks to include the "multiple dimensions" of Torah Judaism, in its own words, by teaching Torah to the public in a non-threatening, all-inclusive way.
"Only by showing that Judaism is a religion of pleasantness can you teach religion in today's society," the organization's mission statement declares. 
To that end, it also "believes in collaboration with women in public leadership" and, as such, it consults with rebbetzins (wives of Rabbis; often also community leaders in their own right, but without the same legal status as a rabbi) and other women's leaders, including teachers.