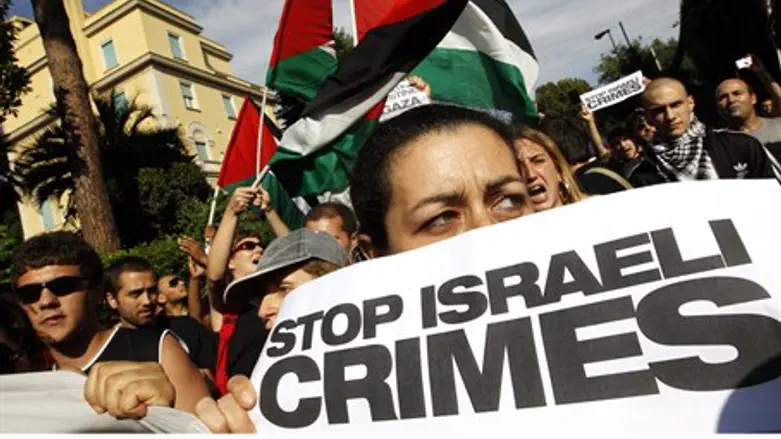 Anti-Israel rally (illustration)
Reuters
Leonard Petlakh, a local Jewish leader in New York City, was attacked by pro-Palestinian protesters outside the Barclay's Center on Tuesday night, following a pre-season game between the Brooklyn Nets and Maccabi Tel Aviv. The event also included a dinner sponsored by Friends of the Israeli Defense Forces (FIDF) in honor of the IDF. 
Petlakh, 42, and the director of the Kings Bay Young Men's Hebrew Association (YMHA), said protesters shouting "Free Palestine" and "Your people are murderers," accosted him as he left the game in downtown Brooklyn. One of them then struck Petlakh in the face. 
Petlakh was taken to Methodist Hospital with a broken nose and a deep cut beneath his eye that required eight stitches. The assault is being investigated by the New York Police Department (NYPD) as an anti-Semitic hate-crime. They are scouring videos for images of the suspect, who fled quickly after punching Petlakh. 
"It's ridiculous," Petlakh told The Jewish Daily Forward. "It's not about the Middle East, it's about sports." Petlakh added that he hoped the, "vile anti-Semitic hooligans masquerading as anti-Zionists will be caught soon."
Around 100 pro-Palestinian demonstrators turned out to protest the game and the FIDF fundraiser, accusing Israel of war crimes in Gaza. Such claims come despite news sources reporting that so-called "civilian casualties" in Gaza were really Hamas and Islamic Jihad terrorists. 
Several groups, including the New York chapter of Jewish Voice for Peace, Adalah New York, and Direct Action Front For Palestine, took part in the outdoor demonstration, as well as yelling obscenities and chanting anti-Semitic statements inside the arena. Other protesters attempted to disrupt the game by unfurling Palestinian flags on the court before being removed by security. 
A Jewish Voice for Peace press release stated that it was "particularly offensive for the Friends of the IDF to hold a VIP reception and fundraiser at the Barclay Center in light of Israel's brutal assault on the Palestinians of Gaza this summer." 
Petlakh, who was with his sons, aged 10 and 14, at the time of the attack, said he was angry that they had to witness the attack after the game, but hopes they learned a lesson about self-defense.
"I hope it sends a strong message to them to stand up for their values as proud Americans and as those who will eventually volunteer to serve in the Israel Defense Forces," Petlakh said.