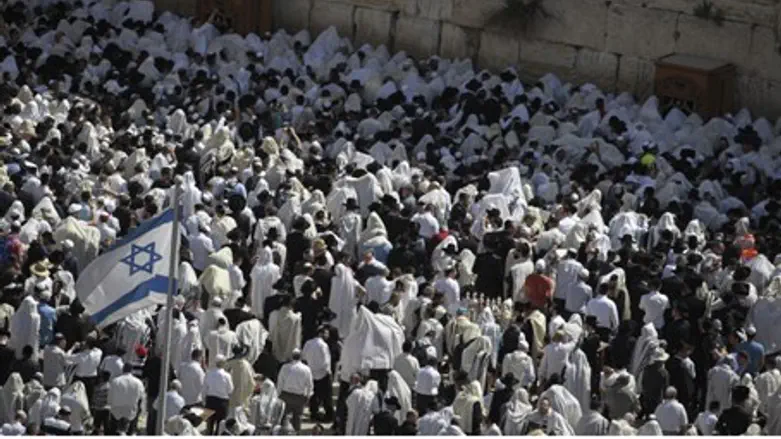 Western Wall (Kotel)
Flash 90
Thousands of Israelis and Jews from around the world gathered in the Western Wall (Kotel) plaza on Sunday morning, for the traditional Birkat Hacohanim (Priestly Blessing) ceremony held on Sukkot (the Feast of the Tabernacles). 
Morning services began at 8:45 a.m. Mussaf services - including the ceremony - commenced at 10:15 a.m.
Several public dignitaries, including Ashkenazic Chief Rabbi David Lau and Sephardic Chief Rabbi Yitzhak Yosef, were in attendance. 
This year, the ceremony is being held under tight security, following multiple incidents of Arab rioting on the nearby Temple Mount. 
The Jerusalem District Police has stepped up its patrols immensely in the area, out of fear of more disruptions. On Saturday, Arab terrorists threw rocks at the Jerusalem Light Rail and at Border Police in the nearby Mount of Olives area. Two soldiers were wounded in the attacks. 
Meanwhile, checkpoints have been manned at several points surrounding the Old City - including at Wadi Joz, Shimon HaTzadik, and every entrance into the Old City except for the pathway leading from the Jewish Quarter to the Wall. 
The Old City has been closed to private vehicles entirely, and the public has been asked to use the city shuttles or other means of public transport to travel to the site. Alternative options include the Light Rail (the Municipality/Iriya stop is ten minutes' walking from the Kotel plaza) or the 38 Egged bus. 
Despite terror concerns, Sunday's ceremony is due to mark a huge upswing in tourism in Jerusalem, and to the Western Wall in particular. 
Even before the Sukkot holiday, over one million people were estimated to have visited the plaza for selichot prayers during the High Holidays - with a record 100,000 people visiting in just one 24-hour period.