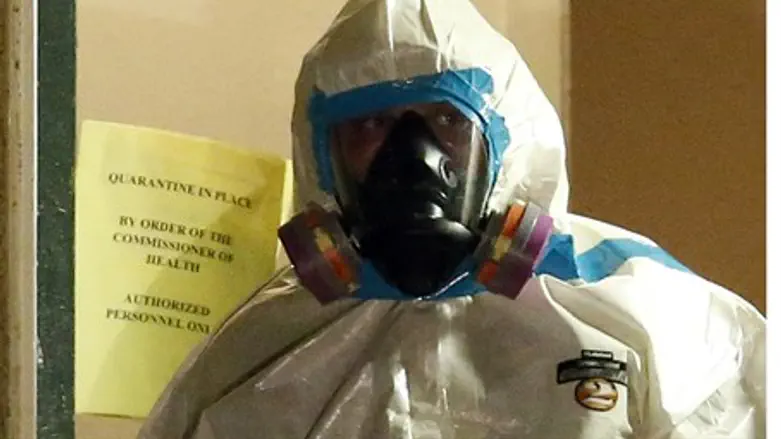 Health worker responds to Ebola case in Dalla
Reuters
After the first Ebola case diagnosed in the US, and the first case of the virus being contracted in Europe, the Ebola outbreak gripping the world continued to expand its grasp Thursday as a British citizen reportedly died of the disease in Macedonia.
The Macedonian Health Ministry said the man started showing symptoms while staying at a hotel in Skopje in the country located north of Greece, and that another British citizen traveling with him had likewise apparently contracted the virus, reports the British Independent.
According to the Macedonian ministry, the two had arrived from the UK, raising fears the disease may have been passed on to those in direct contact with them. The virus, which has a roughly 50% fatality rate, is transmitted by contact with bodily fluids.
Dr. Jovanka Kostovska of the Macedonian Health Ministry said the Briton died soon after being admitted to Skopje's Clinic for Infectious Disease.
The man's fever, vomiting, internal bleeding and rapid deterioration "are all symptoms of Ebola, which raises suspicions with this patient," Kostovska said. She added that samples have been sent to Germany for a final diagnosis.
A Macedonian Foreign Ministry spokesperson confirmed the Briton died "in the state hospital in Skopje. We are looking to see what are the reasons according to the protocols of the World Health Organization."
If confirmed, the man would be the first British citizen to die in the current Ebola outbreak, which had already infected over 7,200 people worldwide as of Monday.
Macedonian authorities immediately went into action, putting hotel staff and the ambulance crew that was in contact with the patients into isolation, and sealing off the hotel.
From the British side, a UK Foreign Office spokesperson said "we are aware of reports and we are looking into them urgently." The UK has stepped up its screening for Ebola at international airports; Macedonia two months ago increased their own airport measures.
The US has also taken such steps, although US President Barack Obama refused to institute a travel ban on the West African countries where the epidemic has been raging - claiming that doing so would make it harder to fight the disease.
US Center for Disease Control Director Dr. Thomas Frieden said Thursday that the spread of Ebola in West Africa is reminiscent of the HIV (AIDS) outbreak, commenting "the world needs to act quickly to ensure that the Ebola virus does not become the 'next' AIDS."