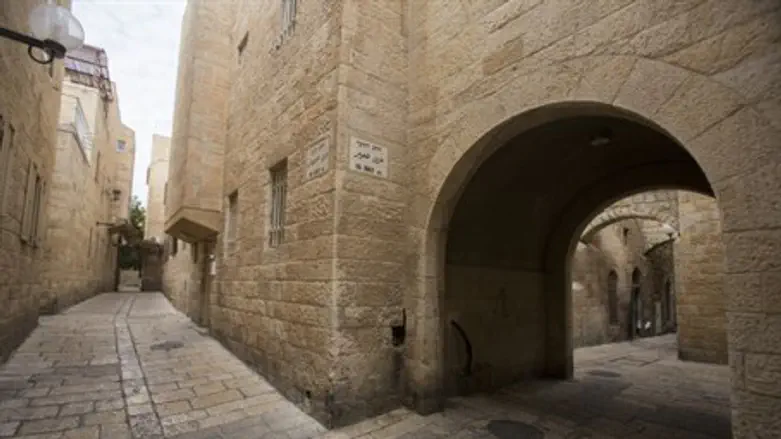 Old City streets
Flash 90
A 17-year-old Jewish teenager, who lives in the Old City of Jerusalem, was attacked on Wednesday afternoon by two Arab minors. He did not require medical treatment.
Police launched an investigation and, with the assistance of two surveillance cameras, arrested two suspects in the assault, Arab youths aged 15 and 16, residents of the Old City.
The investigation into the incident is ongoing.
Unrest in Jerusalem has escalated recently, as part of a cycle of chaos and violence in the capital city known as the "silent intifada" and which has seen terrorism in and around Jerusalem rise by a staggering 509%. 
The violence has also extended to the Temple Mount complex, where masked Arab rioters threw fireworks and rocks at security forces on the Temple Mount on Wednesday, hours before the major Jewish holiday of Sukkot.
Riot police pushed the attackers back by setting up roadblocks, but it was not enough to deter the unrest.
The rioters continued to throw rocks, bricks and iron bars at police from inside the Al-Aqsa mosque, while shooting fireworks at police and spraying an unidentified flammable liquid on them.
They also threw a firebomb at police, which ignited, wounded four officers lightly. The police restrained the rioters and subsequently removed all barriers protecting the entrance to the mosque. The wounded policemen were treated on the spot.
Rioting on the Mount has become so prominent that Housing Minister Uri Ariel (Jewish Home) was forced to talk over the sound of explosions during traditional Rosh Hashanah greetings last month. 
(Arutz Sheva's North American desk is keeping you updated until the start of the Sukkot holiday in New York. The time posted automatically on all Arutz Sheva articles, however, is Israeli time.)