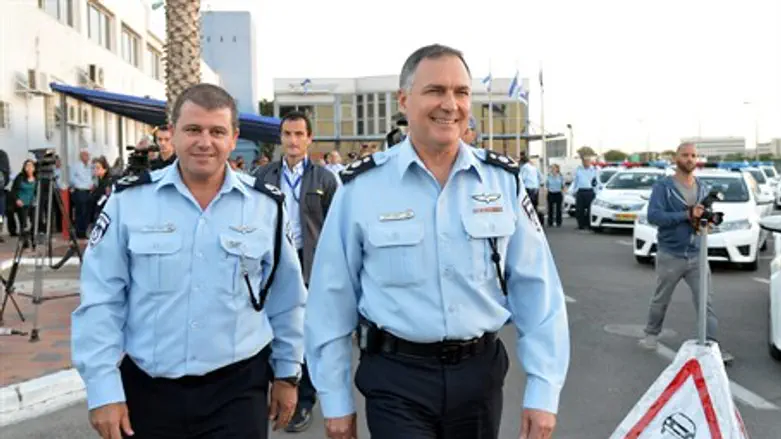 יוחנן דנינו ומשה (צ'יקו) אדרי
צילום: פלאש 90
Replacements have been found for two police officers who retired under suspicious circumstances, Walla! News reports Monday, in an ongoing effort to restructure Israel's police force. 
Major General Moshe Edri will replace Jerusalem District Police Commander Major General Yossi Pariente, eight days after Pariente chose to step down for "personal reasons." Major General Motti Cohen, likewise, will replace Central District Commander Bruno Stein, following the latter's retirement late last month. Both officers were appointed by Public Security Minister Yitzhak Aharonovich (Yisrael Beytenu) and Police Commissioner Yohanan Danino. 
Edri's appointment is a "step up," a police spokesman noted; his last position was head of the traffic police. Edri was originally meant to replace Stein, but was promoted specifically by Aharonovich - leading some analysts to speculate that he will eventually replace Danino as Police Commissioner. Danino is due to retire in five months.  
Cohen - the brother of former Police Commissioner Dudi Cohen - was promoted from Tel Aviv District Police Commander. 
Cleanup or shakeup?
A major shake-up in the force has captured the attention of Israeli media, after Pariente's resignations marked the latest in a series of sudden changes in staff. 
The changes follow a slew of incidents and scandals in the Israel police over the last year, including accusations of corruption levied against Lahav 433 Commander Menashe Arbiv, who is involved in the Rabbi Yoshayahu Pinto affair; the resignation of Jerusalem District Police Commander Major Gen. Niso Shahar on charges of attempted sexual assault; several other sexual harassment accusations regarding senior officers; and the poor handling of the police call made by Israeli teenagers Naftali Frenkel (16), Gilad Sha'ar (16), and Eyal Yifrah (19), hy"d, who called the 100 hotline soon after being abducted and were not taken seriously by hotline operators. 
Both Danino and Aharonovich have also faced criticism for Jerusalem's "silent intifada," with many claiming both are not doing enough to quell the rioting and unrest seeping from the capital's Arab neighborhoods outward.
Just 24 hours after Pariente's resignation, Danino announced that he would initiate a polygraph test policy for future police candidates and Aharonovich vowed to bring a "new spirit" to the police force.
Both statements set off yet another round of rumormongering in Israeli media, causing an exasperated Danino to lash out at senior commanders over the bruhaha last week. 
"We are all public servants, who faithfully took that duty upon our shoulders the moment we decided to serve Israeli police in general, and as senior commanders in particular," Danino said. "The rigorous criteria and expectations for conduct are legitimate."
"Every one of the people sitting here today will return to his unit today and will convey this message to his people," he thundered. "We have a strong police force, we have an excellent police force, we should be proud of the police, and we should stand behind the Commissioner's speech."