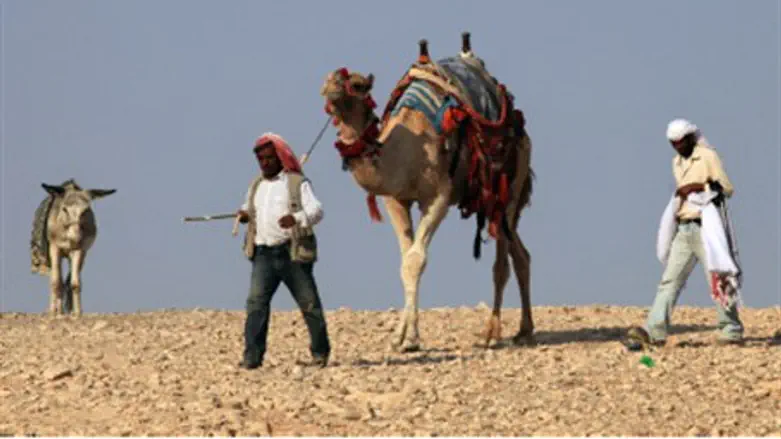 Israeli Bedouin have the highest birthrate
Flash 90
According to the newest demographic studies, the birth rate of Israeli Muslims is continuing to fall. In 2013, the average Muslim family in Israel had 3.4 children, a significant fall from the 4.7 children recorded in 2000, the Central Bureau of Statistics said.
The percentage of Arab population growth is still greater than that of Israeli Jews, however. Jews had an average of 3.1 children per family in 2013, with Druze having 2.2 children and Christians 2.1 children. The largest Muslim families live in southern Israel - particularly among Bedouins, who often illegally practice polygamy - with families there averaging 5.4 children per family. In contrast, in Muslim communities in northern Israel, that number is just 2.8.
In 2013, the Jewish population grew by 1.7%, compared to 2.4% for Muslims, 1.7% for Druze, and 1.6% for Christians. In 2000, the Muslim growth rate was 3.8%.
According to the CBS statistics, Jerusalem has the largest concentrate of Muslims of any city in Israel, with 296,000 living in the city – 20.8% of all Israeli Muslims. In second place is the Bedouin city of Rahat, with 59,000 residents – and with Muslims making up 99.8% of the city's population. Other large Muslim cities include Nazareth with 52,000 people, and Um el-Faham with 51,000.
The Muslim participation in the workforce – with 43.7% members of the community over age 15 working – is low, but that is mostly due to the fact that only 1 in 5 Muslim women work outside the home. The workforce participation rate for men, 64.3%, is comparable to the Jewish participation rate, which is about 65%. Sixty two percent of all Muslims in Israel work in four areas – construction (19%), retail and wholesale (16%), car and vehicle repair (13%), and unskilled day labor (13%).
In 2013, 56% of Muslim students were eligible for a Bagrut matriculation certificate upon finishing secondary school, compared to 63% in Jewish schools. The most popular fields of study for Muslim students is Arabic language and literature, medical lab studies, and pharmacy studies.