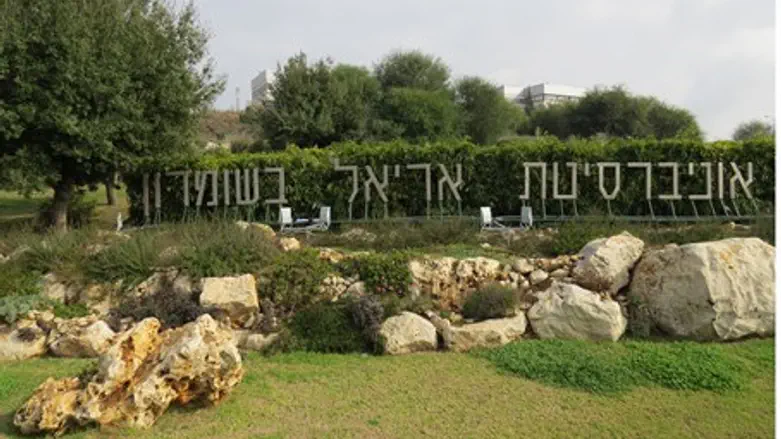 Ariel University
Ariel University
University of Ariel lecturers have been permitted to attend the European Association of Israel Studies' annual conference - despite a policy biased against institutions in Judea and Samaria - but only on condition of hiding where they teach. 
Ariel University Chancellor, Yigal Cohen Orgad blasted the "absurd" policy on Sunday, in a special interview with Arutz Sheva. 
"This is a ridiculous event, in which a small minority is trying to boycott us by saying to researchers: you are acceptable to us, just don't say you're from Ariel University," Orgad fired, adding that the representatives' place of work is "obvious" in any case. "Everyone knows they haven't appeared from a vacuum and are working in Ariel." 
Orgad dismissed the notion of the incident having a permanent impact on the university's credibility, however. 
"We have thousands of partners and researchers from around the world; this is a one-time phenomenon," Orgad noted. "As the saying goes: the dog barks, but the caravan moves on." 
"This is a shameful act," he added. "It is important that it garners no response. We will continue to appear at conferences around the world." 
Several months ago, the European Union (EU) published new guidelines which boycott Israeli entities operating beyond the 1949 Armistice Lines, including Ariel University. The guidelines are part of the EU's policy toward Israel in general; it has threatened Israel multiple times to further its agenda in the Middle East, dangling unprecedented aid packages to both Jerusalem and Ramallah if a two-state solution is implemented. 
Israel and the EU subsequently reached a compromise on wording for Israel's participation in the "Horizon 2020" European scientific collaboration project.
Despite the EU boycott, Czech Ambassador to Israel Tomas Pojar visited Ariel University in January, becoming the first European ambassador to do so.