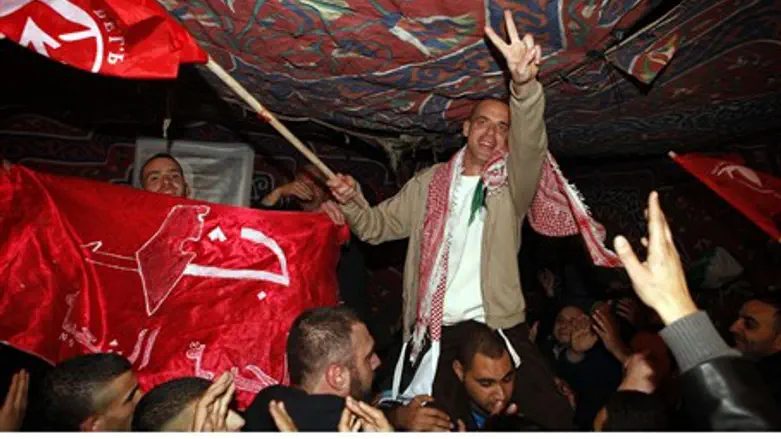 Shalit terrorist freed to Jerusalem (file)
Flash 90
In further proof of the destructive effects of the 2011 Gilad Shalit terrorist release deal, another of the 1,027 terrorists released has been re-arrested for returning to crime.
The terrorist, a resident of Al-Jiftlik in the Jordan Valley located north of Jericho in Samaria, was arrested and will have an indictment submitted against him for trying to smuggle 23 kilograms (50 pounds) of drugs from Jordan into Israel.
The arrest, which was cleared for publication by the police on Thursday afternoon, was conducted by Judea and Samaria detectives in August as part of a campaign against drug running.
The released Shalit terrorist was spotted crossing the border fence from Jordan, but managed to escape back into Jordan from police pursuit - in the process dropping behind him a sack with 23 kilograms of hash, a canabis product.
Several days of investigations and intelligence operations succeeded in forcing the man to turn himself in.
Under police investigation, he claimed that he fled into Jordan "because I thought settlers were chasing me."
Numerous terrorists released in the Shalit deal have returned to terrorism and been re-arrested, including the terrorist who in April murdered police Chief Superintendent Col. Baruch Mizrahi hy''d.
Hamas is reportedly close to sealing the release of hundreds of jailed terrorists, including 63 re-arrested Shalit deal terrorists, in a prisoner swap amid the Cairo truce talks in exchange for the bodies of fallen soldiers Hadar Goldin and Oron Shaul hy"d.