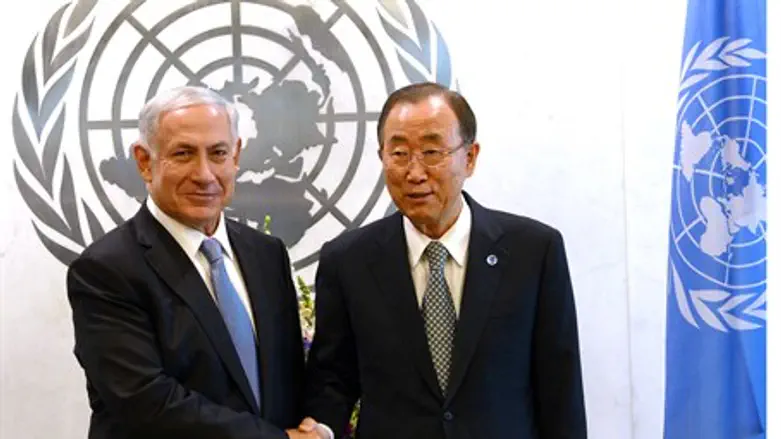 "I know a great Korean place..."
Flash 90
Israeli hareidi and religious websites were seething Sunday, after it was reported that Prime Minister Binyamin Netanyahu had dined at a non-kosher restaurant on Shabbat, in a dinner-date with casino magnate Sheldon Adelson.
But the sites were absolutely livid Thursday when it was revealed that after dining on "treif" delicacies for lunch at Fresco by Scotto, a non-kosher Manhattan Italian restaurant, Netanyahu went for some "surf and turf" - this time at a well-known Manhattan lobster and crab joint, Chart House.
Netanyahu's second post-Rosh Hashana and pre-Yom Kippur offense against Jewish law was reported Thursday by Maariv journalist Ben Caspit, who said that Netanyahu in the evening dined with several other millionaires (although not of the caliber of Adelson), along with Israel's ambassador to Washington, Ron Dermer. Also present, Caspit said, was the head of Israel's diplomatic mission in the US, Ari Harow.
When asked by Globes earlier in the week about his Saturday lunch, Netanyahu, who was in the US to speak to the UN General Assembly and meet with President Barack Obama, replied that it was "a private meeting with an old acquaintance," and not really the business of anyone else. However, several members of the New York Jewish community disagreed. Speaking to the Kikar Shabbat web site, one woman, who leads an Orthodox organization in New York, said that Jews "expected someone holding an official position to act in a manner that is respectful to the Orthodox community in the US, at least from a public perspective. He is, after all, a Jewish leader as well as an Israeli leader."
It was just common courtesy, she said. "Every non-Jewish business person in New York knows that when they dine with an observant Jew it will be in a kosher restaurant. Fortunately there are more than enough high-class and appropriate establishments in New York for those kinds of meetings."
Commenting on the story, hareidi MK Yisrael Eichler (United Torah Judaism) said that "it is indeed unfortunate that swinish government officials and piggish billionaires dine in a pork restaurant. They deserve a special prayer on Yom Kippur, that they or at least their children do teshuva (repent) for their sins, against G-d and the Jewish community."