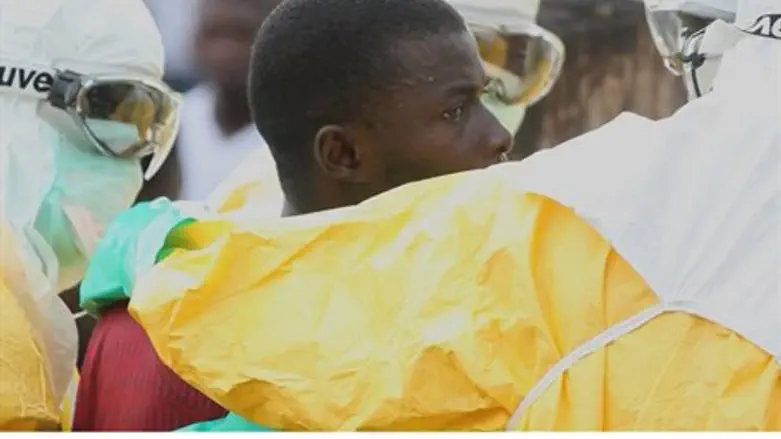 Ebola patient in Liberia (file)
Reuters
A man who traveled on a commercial flight from Liberia to Dallas on September 20 was diagnosed on Tuesday as being infected with the Ebola virus, becoming the first such case in the US and the first case outside of western Africa in the recent global outbreak.
The US Centers for Disease Control and Prevention (CDC) announced the man is in critical condition, and is being held in isolation at the Texas Health Presbyterian Hospital in Dallas, reports the New York Times. He traveled to Dallas to visit relatives.
CDC Director Dr. Thomas Frieden stressed there was "zero chance" the man infected anyone else on the flight, because he was screened before boarding the plane and had no symptoms. He only developed symptoms of the disease last Wednesday.
The disease, which has a 51% mortality rate, has already killed over 3,000 in Africa so far, but can only be transmitted by contact with the bodily fluids of someone ill with the virus.
After developing symptoms the man sought care last Friday but was sent home in a misdiagnosis of his fever and nausea; he returned for care on Sunday after symptoms worsened and was placed in isolation, and on Tuesday was confirmed by lab results as having the disease.
Frieden briefed US President Barack Obama about the case on Tuesday afternoon, telling him a CDC team is being dispatched to Dallas to trace any possible infected contacts, a process that has already been started by local health officials.
The process will have all people possibly exposed to the patient while he was infectious monitored over the 21-day incubation period of the disease, and isolated if they show symptoms. If they are diagnosed with the disease, they will be kept in isolation while their contacts are then traced for 21 days.
The methods are "tried and true" assured Frieden, saying "I have no doubt that we'll stop this in its tracks in the US."
The White House on Tuesday released guidelines through its official Twitter account, saying "you cannot get Ebola through the air, water or food in the U.S. Ebola can only spread from contact with the blood or body fluids of a person or animal who is sick with or has died from the disease."
A report released last Tuesday by CDC gave a doomsday prediction that if the current Ebola epidemic is not countered with serious international efforts, there could be 1.4 million infected people in Sierra Leone and Liberia by the end of January.
Another report last Tuesday by the New England Journal of Medicine warned the current Ebola outbreak may never be fully controlled making the virus endemic, and bringing civic life in the stricken countries to a standstill while keeping the threat of Ebola spreading globally constant.