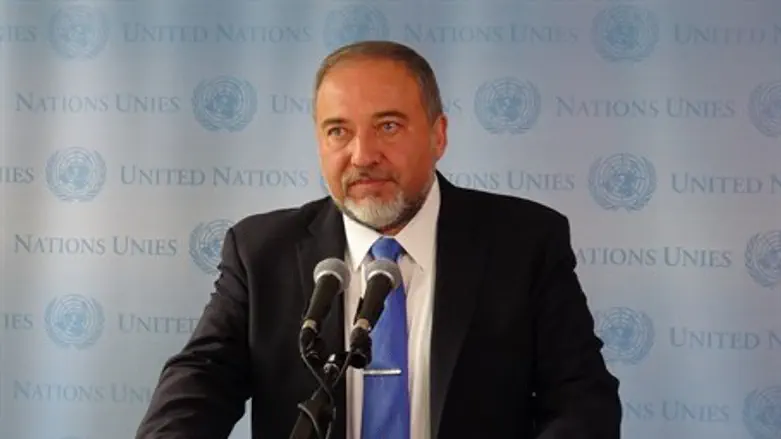 Avigdor Liberman, outside UNGA
Hezki Ezra
Foreign Minister Avigdor Liberman spoke at the UN General Assembly in New York on Monday, where he responded to Palestinian Authority (PA) Chairman Mahmoud Abbas's accusations of Israel committing "genocide" and "war crimes" during its self-defense operation, Operation Defensive Edge in Gaza. 
"Mr. Mahmoud Abbas has lost his way," Liberman stated. "Because he failed with all his domestic issues, he tries to compensate with rhetoric - escalation of his rhetoric at the UN, here in the international arena." 
"But it's clear that he has lost support, and lost his way," he added, stressing again that he considers Abbas not to be a "reliable partner" and that such a partner is vital for a "comprehensive solution." 
Liberman added that the Iran nuclear deal is, in Israel's view, a "bad deal" that Israel considers "completely unacceptable." 
"If Iranians achieve nuclear capabilities, the immediate consequences will be a crazy nuclear arms race in the whole Middle East," Liberman said. "Of course, we keep all options on the table - we are monitoring, we are following."