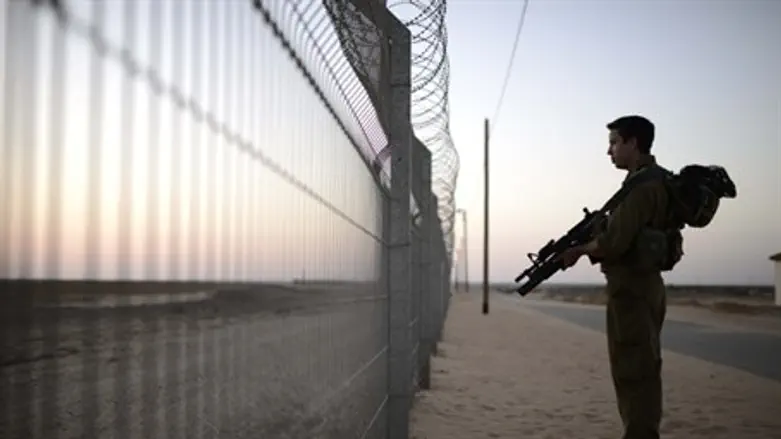 Gaza border fence (file)
Flash90
The Defense Ministry and the IDF have decided to build a fence enclosing the Gaza Belt region, after both a survey of the long-term damage of Operation Protective Edge on the bloc and in light of two terrorist infiltrations there within a 48-hour period. 
But the fence is no ordinary fence. Security sources told Walla! News Monday that the barrier will be a "smart barrier," with an alarm system designed to alert the Gaza Belt Regional Council and the Gaza Division of the IDF at any suspected infiltration attempt. A similar system is in place near the Palestinian Authority and in Judea and Samaria. 
"Work has already begun in [Gaza Belt] communities," the source, an officer in the Southern Command, revealed. "The goal is to become more alert to infiltrations as they happen on the ground, in face of threats from [nearby] Gaza - and there are many of them." 
"Some infiltrations are terror attacks, and some are merely Gazans looking to find jobs," he noted, "[but] for us, those who cross the fence are, first and foremost, terrorists." 
"Now, if he crosses the fence, we will have further information on whether or not he entered a community," he added. 
Defense Minister Moshe Ya'alon is directly behind the decision, an additional security source told the daily, which is also in tandem with measures to strengthen public institutions against rocket fire in those communities - especially schools. 
For now, the source noted, funding for the barrier fence is not from the separate project to strengthen buildings, but directly from the IDF's own budget. 
The Gaza Division, under the command of Brigadier General Itai Virov, is also in the midst of conducting dialogue with mayors and security staff in the various communities and kibbutzim over operational guidelines for the "smart fence." The prime problem, he said, is fine-tuning the system to detect infiltrations, specifically - not only farmers moving in and out of community lands during the course of a typical day. 
The decision surfaces after something of a mass exodus during and after Operation Protective Edge, which saw as many as 60% of residents flee for safer areas of Israel. 
Many residents also complained about the lack of security in the region, citing an ill-timed measure by the IDF and Defense Ministry to cut guard posts around the same communities just months before the latest war began. Residents also complained during this year's snowstorm that maintenance on the fence was low-priority, further leaving communities at risk. 
Over the past 48 hours alone, two separate infiltration attempts have been apprehended along the same border. One terrorist was armed; the other was not.