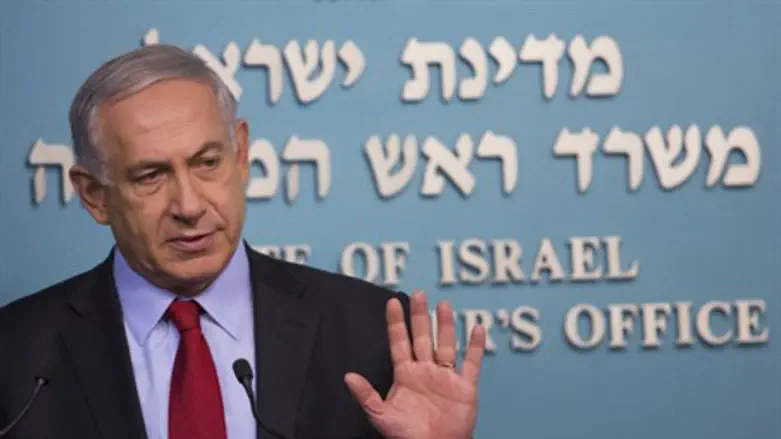 Binyamin Netanyahu
Flash 90
Prime Minister Binyamin Netanyahu is promising a "razor sharp" speech at the United Nations General Assembly on Monday.
Speaking to reporters who accompanied him on his flight to New York, Netanyahu said the speech would be made up of two parts: a response to Iranian President Hassan Rouhani's speech and a response to the speech made by Palestinian Authority Chairman Mahmoud Abbas, who accused Israel of "genocide" and "war crimes" in his speech last Friday.
Arutz Sheva has learned that Netanyahu's full speech is not yet ready and is expected to undergo some last minute touch ups, but his associates said, "It is worth the wait".
Speaking just before takeoff on his way to New York, Netanyahu reiterated his pledge to "refute the lies" against Israel at the UN General Assembly.
"In my speech to the General Assembly, I will refute the lies that are being told about us and I will tell the truth about our state and the heroic soldiers of the IDF, the most moral army in the world," Netanyahu said on the tarmac at Ben Gurion airport near Tel Aviv before boarding the plane.
Abbas's speech garnered strong reactions from the U.S. - which called the tirade "offensive" - and from Israeli MKs across the political spectrum. 
Foreign Minister Avigdor Liberman said on Sunday that Abbas has become irrelevant following his speech.
Abbas's speech "has made him irrelevant with regards to any attempts to reach an agreement between Israel and the Palestinians", Liberman told his counterparts in a meeting in New York.