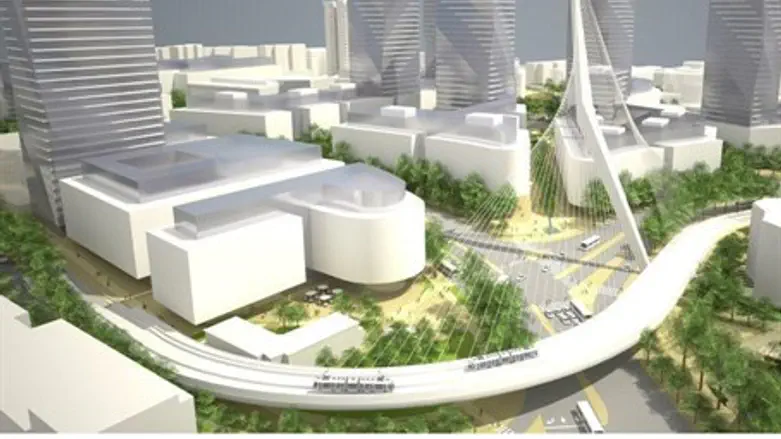 A model of the new project
Courtesy Channel 10
Jerusalem's "front gate" is set to get a major upgrade in the coming years. At a joint press conference Monday, Minister of Finance Yair Lapid, Minister of Transport Yisrael Katz, Minister of Housing Uri Ariel, Jerusalem Mayor Nir Barkat and the head of the Israel Lands Authority, Benzi Lieberman, signed today a development agreement that will see major development of the western edge of Jerusalem, with new housing and business projects.
The project will include construction of malls, business parks, and leisure areas that will include 130,000 square meters of hotel rooms and shopping space (with a total of 2,000 new hotel rooms) 230,000 square meters for industry and business, and 49,000 square meters for recreation and leisure. Additionally the project includes expanding the Israel Convention Center (Binyanei Ha'uma), bringing it up to international standards, and modernizing the neighboring buildings housing the Zionist Archives.
The area will feature two new light rail stops, as well as enhanced transportation opportunities in the central bus station, an inter-city rail station (currently under construction) and a "park and ride" lot that will include 1,300 spaces. The plan will entail the construction of 12 high-rise buildings for employment, offices, hotels, culture and tourism. Construction will be centered between the entrance of the city, near Road 1 and the String Bridge, to Shazar, Herzl and Rabin Boulevards. The area will also feature planned open spaces, focusing on an enhanced pedestrian experience. The open spaces will also be the focus of a variety of cultural events. The project cost is estimated at one billion dollars.
Speaking at the press conference, Lapid said that the government would "continue to promote the development of the region and expand housing options in order to ensure that people coming to work in the new areas of Jerusalem will also be able live here."
Jerusalem Mayor Nir Barkat said that "today we begin to carry out a project for economic development at the city entrance that will add to the city 50,000 new jobs to Jerusalem. The project will greatly benefit residents of Jerusalem."