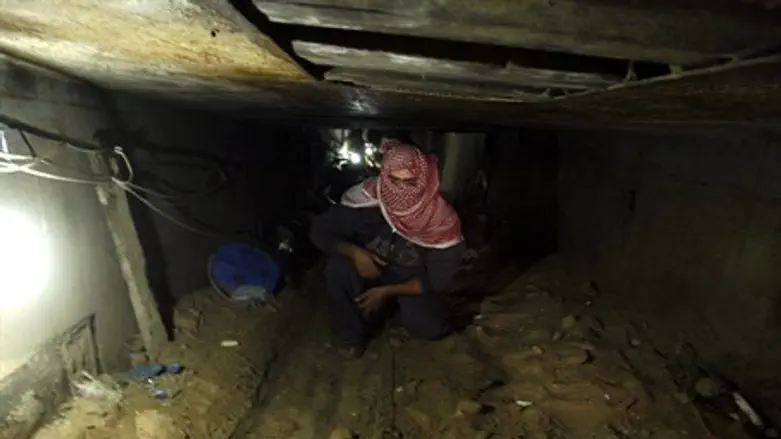 Gaza tunnel (file)
Flash 90
Egyptian security forces shot a Gaza resident to death and wounded two others on Saturday, after they tried to breach into the Sinai Peninsula through a tunnel at the border town of Rafah.
The men, who were spotted by a security patrol, tried to run back into the tunnel after being ordered to stop and were shot, according to security officials who spoke to AFP.
It remains unclear if the men were venturing out in a foray to smuggle goods into the Hamas terror enclave, or whether they were part of a human trafficking operation which Fatah has revealed Hamas is running, by which Gazans leave for Europe via Egypt.
That trafficking route was exposed last week after a smuggling ship carrying 500 people was wrecked off the coast of Malta, with nearly all of the 100 Gazans on board drowning.
According to a Gaza-based human rights worker "thousands of people have left the Gaza Stripclandestinely over the past two months, especially during the war," referring to Operation Protective Edge.
Rafah has been the site of much violence in recent weeks, with six Egyptian police officers killed last Tuesday by an explosive planted underground, after 11 others were killed early in the month by a similar subterranean bomb. The jihadi group Ansar Beit al-Maqdis, which has reportedly sworn allegiance to the "Islamic State" (ISIS), claimed that attack.
In a separate incident in Sinai on Saturday, a leader of Ansar Beit al-Maqdis was killed by Egyptian soldiers.
According to officials, the jihadist was an explosives expert who was attempting with three others to plant a roadside bomb, evidently along the lines of the previous two.
Egypt says it has destroyed well over 1,600 smuggling tunnels running between Sinai and Gaza, the vast majority of them since former Egyptian President Mohammed Morsi was ousted last July 3. Morsi was a member of the Muslim Brotherhood Islamist group, of which Hamas is a Gazan offshoot.
Hamas has used the Sinai tunnels to smuggling in weapons and goods; Egypt had been implementing a siege that limited the smuggling traffic, but recently that has been eased in the aftermath of the August 26 ceasefire between Hamas and Israel.
There are fears that Hamas is restocking its stores of cement through the smuggling tunnels, given reports that the terror group has already restarted construction on terror tunnels to attack Israel despite the ceasefire.