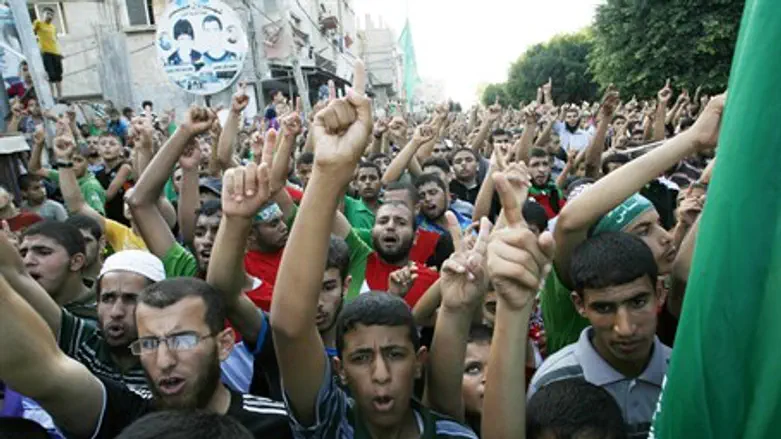 Hamas supporters in Gaza
Flash 90
In advance of the UN Human Rights Council investigation of Israeli "war crimes" in Gaza this summer, the Lawfare Project has compiled a detailed list of "Hamas's Violations of International Law."
The UNHRC has appointed a three-member committee to investigate "all violations of international humanitarian law" during the recent war in Gaza. It explained its one-sided intentions by "condemn[ing] in the strongest terms the widespread, systematic and gross violations of international human rights and fundamental freedoms arising from the Israeli military operations..."
The New York-based Lawfare Project attempts to safeguard against the abuse of the law as a weapon of war. It turned its attentions this month to ensuring that international law is not turned against Israel, in the face of Hamas indiscriminate rocket and tunnel attacks against Israel. 
It is well-known that Hamas used, in various ways, its civilian population as shields in the face of Israeli missile attacks, while firing rockets at Israeli population centers and tunneling into Israel for the purpose of facilitating terrorist attacks. However, the exact international laws that Hamas has violated are not widely understood, and the Lawfare Project has prepared an 11-page document to fill in this gap. 
The document lists the specific rule violated by Hamas, and provides documentation of the violations. For instance, Rule 1 of Customary International Humanitarian Law is the Principle of Distinction between Civilians and Combatants. The Lawfare Project notes that the U.S. State Department has condemned Hamas rocket fire on Israeli civilians, and Hamas itself declared that all Israelis had become targets for its missile attacks.
Hamas has admitted violating the rule requiring advance warning of attacks, and the UN Relief and Works Agency said it found rockets hidden by Hamas in a school – in violation of Rule 22 (Precautions Against the Effects of Attacks).
The full Lawfare Project report can be seen here. 
Further underlining the expected anti-Israel bias and decisions of the UNHRC commission is its chairman, William Schabas, who has frequently accused Israel and its leaders of war crimes in the past.