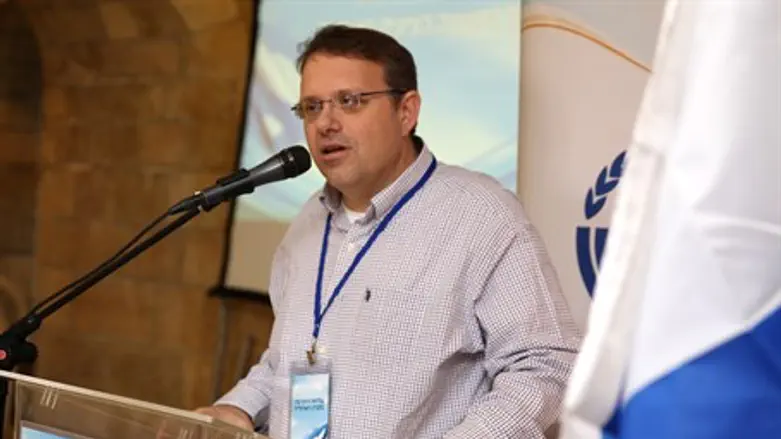 Yaakov Hagoel
Flash 90
Ya'akov Hagoel, head of the Department for Activities in Israel and Countering anti-Semitism of the World Zionist Organization (WZO), told Arutz Sheva that regardless of the claims of Belgian officials, the Brussels synagogue arson attack on Tuesday was no "criminal" act.
"This is an arson incident that occurred at 5 a.m. in Brussels at the Anderlecht synagogue next to the train station. The three wounded by inhaling smoke are the gabbai (synagogue caretaker) and his family members who live on the floor above," Hagoel told Arutz Sheva on Tuesday.
Laurens Dumont, a spokesman for the city prosecutor, reported that the gabbai in fact was not wounded in the event, but rather that the three consisted of his wife and two children.
Either way, according to Hagoel, "this synagogue was set on fire in 2010 by a molotov cocktail, and yesterday the Jewish Museum in Brussels was reopened, after being closed following the attack (killing four people) three months ago. We believe there's a connection between the events."
Dumont said of the attack on the synagogue in the Muslim majority neighborhood "it would seem that the fire was set deliberately," noting "all leads are open" - but claiming "there was no reason to suggest that it was a terrorist attack."
Likewise Belgian Prime Minister Elio Di Rupo said he was "troubled" by the fire "and I forcefully condemn this criminal act" reports AFP, in a statement calling the attack "criminal" and not racist or anti-Semitic.
That assessment was rejected by Hagoel, who said "there's no doubt this is a continuation of the violent anti-Semitism occurring worldwide and particularly in Belgium in recent months."
Hagoel's WZO conducted research finding that anti-Semitic incidents jumped by 383% worldwide in July during Operation Protective Edge as compared to the same month last year; in Europe that figure was a whopping 436%.
"I call on leaders around the world, Jewish community leaders, and the leaders of countries to take things in hand and stop the Jew haters in these countries. The responsibility to defend law abiding Jewish citizens lies on the world leaders," concluded Hagoel.