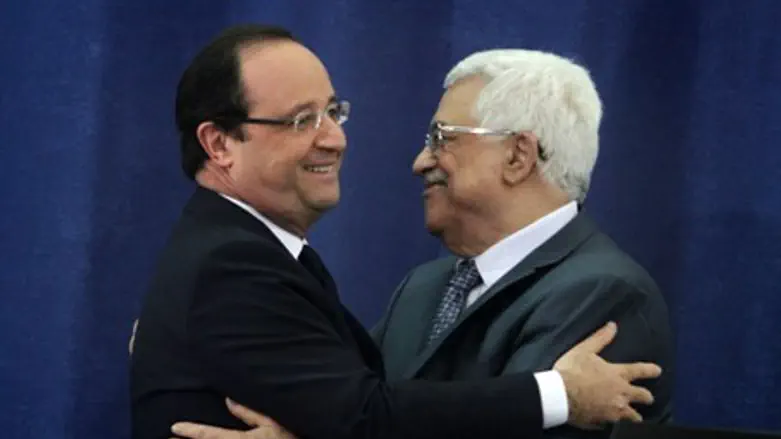 Abbas and Hollande meet in Ramallah (file)
Flash 90
Palestinian Authority president Mahmoud Abbas will meet French premier Francois Hollande in Paris on Friday, ahead of a key address to the United Nations, his spokesman said.
Abbas will spend two days in Paris before heading to New York, where he will attend the UN General Assembly, which opens on September 24, his spokesman Nabil Abu Rudeina told AFP on Sunday.
The PA leader will use his speech to the UN to try to rally support for a new diplomatic initiative to set a date for forcing Israel out of Judea and Samaria.
He recently obtained backing from the Arab League for his plan, which aims to secure an end to the Jewish presence in Judea-Samaria within three years and the establishment of a Palestinian Arab state in the region, which is historically and strategically important to Israel.
Earlier this month, a senior Palestinian official said the leadership was going to seek a UN Security Council vote on a resolution setting a three-year deadline for ending Israel's presence in Judea and Samaria, despite knowing any such text would be vetoed by Washington.
"We will be seeking a Security Council resolution on ending the occupation on a specific date," said Hanan Ashrawi, who is a member of the governing body of the Palestine Liberation Organisation (PLO).
"We should know that the occupation will end within three years."
She also raised the possibility of seeking passage of a similar but non-binding resolution by the UN General Assembly.
If, as expected, the Security Council bid fails, the PA has said they will consider fast-tracking an application to become party to the International Criminal Court.
That would pave the way for possible prosecutions over Israeli actions in its battle against Arab terrorists, including during the 50-day war in Gaza which ended on August 26.
But analysts - including the PA's own envoy to the United Nations Human Rights Committee - have warned that such a move could backfire, given that Palestinian terrorist groups are themselves guilty of clear and egregious violations of human rights law by deliberately targeting Israeli civilians.
Meanwhile, an Israeli legal rights NGO has announced that it has brought international criminal charges against Hamas's political leader, Khaled Mashaal, to the ICC. As a Jordanian national, Mashaal can be tried in the Hague.