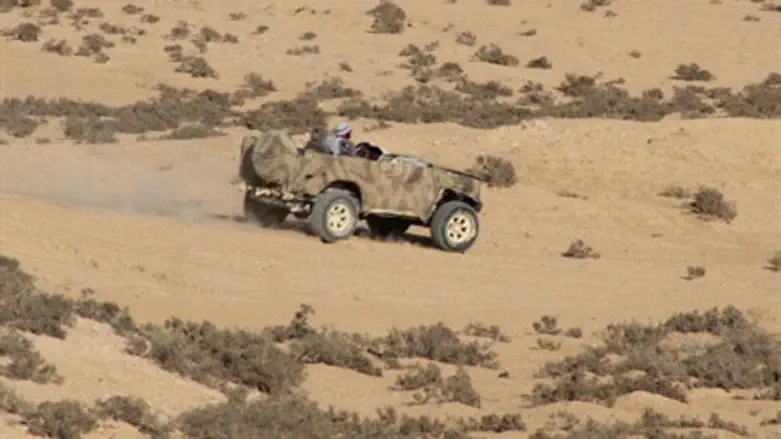 Bedouin ATV in IDF base.
Regavim
A Bedouin man threatened an IDF officer at gunpoint Friday evening, according to Walla! News, on the Tse'elim firing ranges in the south. 
Two Bedouin men from the nearby village of Bir Haraj drove into the shooting range on ATVs, an officer on base reported, and refused to leave the area despite the natural threats to their safety. 
The dispute erupted into verbal clashes; one of the men then pulled out a knife and threatened to stab the officer on duty, forcing the officer to draw his weapon. 
The officer then shot the attacker in the chest, wounding him. The attacker was treated for injuries on-site and is being taken to Soroka Medical Center in Be'er Sheva for treatment; a Military Police investigation has been launched to determine further details about the incident. 
The IDF recently tightened security around the Tse'elim base after many cases of theft were reported in adjacent firing ranges.
In the past several years, there have been several cases of Bedouin residents of the area breaking into IDF bases on ATVs and attempting to steal weapons and other valuables, according to Walla!. 
In one particularly well-documented case, video footage was released in 2012 showing Bedouin thieves on ATVs driving next to IDF vehicles in a restricted military zone. Channel 2 documented an in-depth report at the time how Bedouin metal thieves routinely enter IDF training zones during live fire tank exercises and collect spent shells and other items they find desirable. 
(Arutz Sheva's North American desk is keeping you updated until the start of Shabbat in New York. The time posted automatically on all Arutz Sheva articles, however, is Israeli time.)