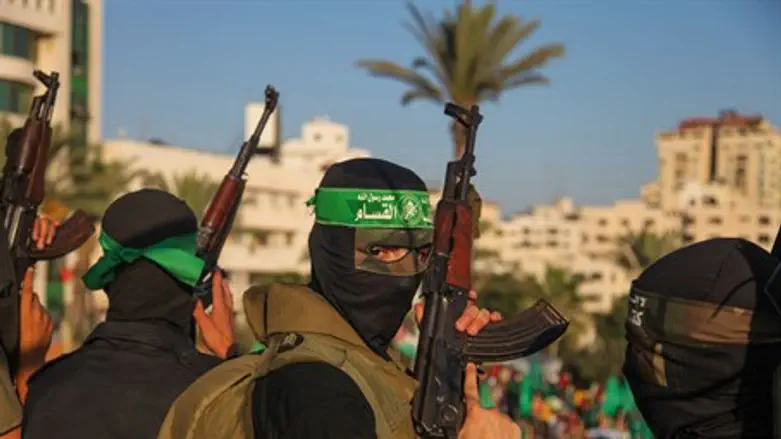 Hamas terrorists in Gaza
Flash 90
Gaza's Hamas-run "Ministry of Interior and National Security" has banned Gazans from public celebrations, including weddings, according to a directive published Wednesday. 
An Interior Ministry official stated that the decision was made "in the public's best interest" and "in mutual responsibility and concern" for families of Palestinian Arabs killed and wounded during the fifty-day battle against Israel. 

Festivities at the present time are not appropriate, the Ministry determined, in light of the large number of families of those killed in the recent conflict, as well as the countless left wounded or homeless. 
Hamas, which provoked the conflict after firing hundreds - and then thousands - of rockets on Israeli civilians, is also well-known for its repressive policies and human rights violations in Gaza. 
Previous policies have included imposing "modest" dress on students at a Gaza university; banning women and teenagers from smoking hookahs in public; ordered that women's clothing stores are not allowed to have dressing rooms; stated that men cannot have hairdressing salons for women and that mannequins shaped like womenmust be dressed in modest clothing.
Hamas also famously banned residents of Gaza from participating in the national reality singing show "New Star," similar to the US's "American Idol" or the UK's "X-Factor." 
More recently, it has introduced lashes as a punishment for legal offenses.