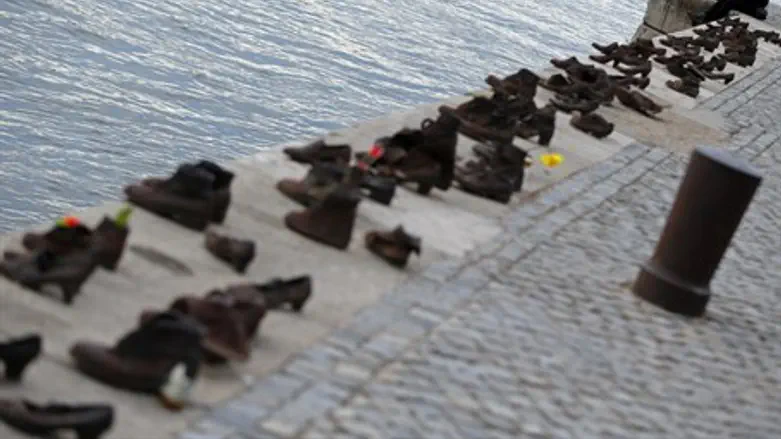 Shoes on the Danube Holocaust memorial
Reuters
A number of bronze shoes were stolen from the riverside Holocaust memorial 'Shoes on the Danube' in Budapest, Hungary, The Budapest Beacon reported on Tuesday.
It is not known whether the incident was racially motivated or simple theft, the report said.
The memorial by Gyula Pauer and Can Togay, which was erected on the left bank of the Danube near Parliament in 2005, commemorates the victims of the Arrow Cross militiamen in Budapest during World War II.
The victims were told to take off their shoes before being shot and flung into the freezing Danube. 
Local police said they are not investigating the case because no crime had been reported, according to The Budapest Beacon.
An earlier act of vandalism of the shoe memorial occurred five years ago, when pig trotters were placed in the shoes in a willful act of desecration. The ensuing police investigation turned up no suspects.
If the incident is indeed of an anti-Semitic background, it would not be the first in Hungary, where anti-Semitism has been on the rise in recent years.
Most of the anti-Semitism  has been perpetrated by the openly anti-Semitic Jobbik party. In November of 2012, one of Jobbik's members released a statement saying that a list should be compiled of all of the Jewish members of government.
He was followed by another Jobbik member who called publicly for the resignation of a fellow MP who claimed to have Israeli citizenship.
Last month, a town mayor linked to Jobbik was filmed ordering the hanging of effigies of Israeli Prime Minister Binyamin Netanyahu and former president Shimon Peres in protest against the Gaza conflict.