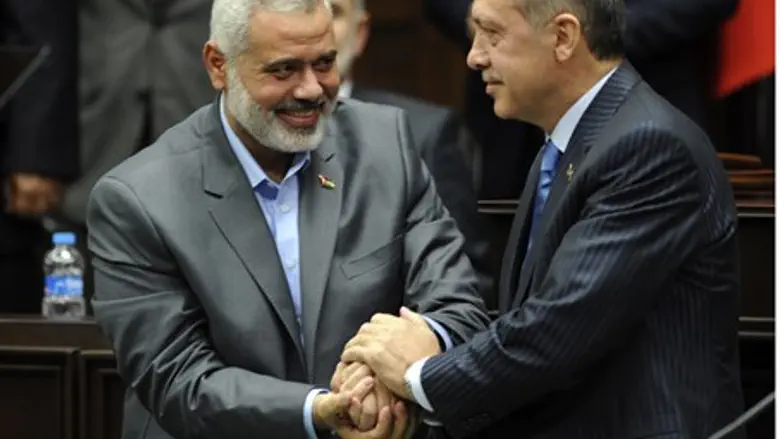 Hamas' Ismail Haniyeh and Recep Tayyip Erdoga
Reuters
Turkish Energy Minister Taner Yildiz essentially blackmailed Israel on Tuesday, demanding that the Jewish state make "peace" with the Gaza-based terrorist organization Hamas before it would consider a joint energy project linking Israel with Europe.
"For energy projects to proceed, the human tragedy in Gaza will have to be stopped and Israel will have to instate a permanent peace there with all elements," Yildiz told reporters in Ankara, referring to the recent counter-terror Operation Protective Edge.
"It is out of the question to proceed on any energy project unless a permanent peace is established, with contribution from all sides and with necessary conditions. A human tragedy unfolded (in Gaza), it is all too easily forgotten," added Yildiz.
Yildiz's comments came in response to questions about a proposed lucrative joint project, which would have a 10 billion cubic meter sub-sea pipeline built by 2023, connecting Israel to the European market. The project was expected to cost $2.2 billion, reports Reuters.
The pipeline was meant to help Israel export the estimated 18.9 trillion cubic feet of natural gas at its Leviathan offshore field; the field has been hailed as the largest gas deposit found in the world in a decade. Prime Minister Binyamin Netanyahu has forecast $60 billion in revenues on Israel's offshore gas exports.
According to the Turkish Daily Sabah, the talk of developing the pipeline with Turkish energy company Turcas Petrol has been suspended in the wake of Operation Protective Edge.
The tension with Turkey comes as anti-Semitism is on a steep rise in the Muslim nation amid the operation; just recently an Istanbul store hung a signforbidding entrance for "Jew dogs."
During the fighting in Gaza, Turksih President Recep Tayyip Erdogan likened Israel's operation to the actions of genocidal Nazi leader Adolf Hitler. He likewise threatened to end the normalization process with Israel over "state terrorism."
Meanwhile Defense Minister Moshe Ya'alon clarified on Tuesday that Turkey is a key supporter of terror, saying the international headquarters of Hamas are located in the country.
It is worth noting that while Turkey may be snubbing the idea of a deal, Jordan just last Wednesday reportedly signed a $15 billion deal for Leviathan gas, despite growing tense relations with that country as well.