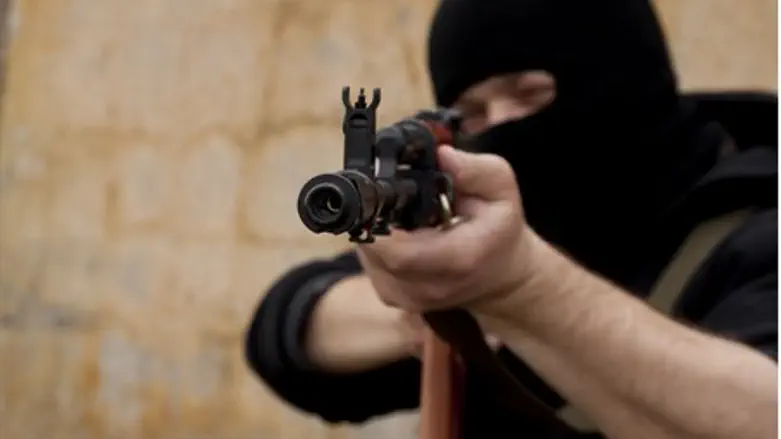 (Illustration)
Thinkstock
Before Shabbat began on Friday evening, residents of the northern Jerusalem neighborhood Pisgat Ze'ev reported to the 100 police emergency hotline that they heard gunshots from the adjacent Arab neighborhood of Shuafat towards their direction.
Police forces that arrived on the scene found two bullets, one lodged in the rear windshield of a car and the other in the garden of an apartment on Eliyahu Meridor Street in the neighborhood. No residents were wounded by the gunfire.
Border Patrol forces conducted a search for the culprits in Shuafat, but still have not apprehended any suspects. Jerusalem police have stated that the incident is very serious, and that great efforts will be made to locate the responsible parties.
On August 22, likewise on a Friday close to the start of Shabbat, Pisgat Ze'ev residents similarly reported of gunfire emanating from Shuafat; a bullet was found at the doorway of a local home.
A few days later, a 20-year-old Arab resident of Shuafat suspected of committing the shooting was seriously wounded by gunfire from police who ambushed him, and was trasfered to the Hadassah Ein Kerem Hospital in Jerusalem for treatment and investigation.
There has been a recent wave of terror hitting Jerusalem, which has largely consisted of rock attacks on cars.
The terror echoes calls such as those of senior Palestinian Authority (PA) official Jibril Rajoub, who last month declared his organization made a "political decision" to support Arab terrorists "slaughtering" Jews living in Judea, Samaria and eastern Jerusalem.
Some high-profile incidents illustrating the effects of that "decision" occurred on August 4, when a soldier was shot in the stomach at the entrance to the Har Hatzofim (Mount Scopus) tunnel in Jerusalem; he suffered moderate to serious wounds.
Only several hours earlier that day, an Arab terrorist attacked a bus with a tractor, flipping it over and killing a 25-year-old hareidi kollel student as well as injuring several others. Police shot the terrorist dead while he was inside the tractor.