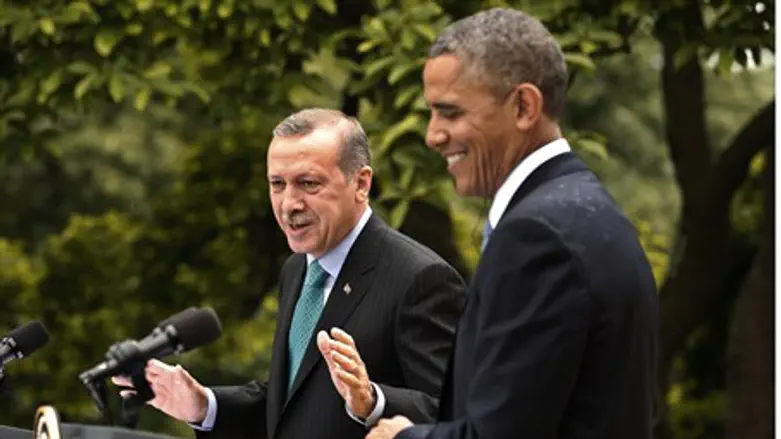 Obama and Erdogan (archive)
Reuters
U.S. President Barack Obama on Friday urged Turkish President Recep Tayyip Erdogan to combat anti-Semitism, the White House said in a statement.
"The President met with Turkish President Erdogan today in Newport, Wales, where both leaders were attending the NATO Summit. They exchanged views on how best to cooperate in the struggle against ISIS and violent extremism in Iraq and Syria, and on the need for strengthened measures against foreign fighters transiting to and from the battlefield," the statement said. 
"They discussed the urgent need for effective pressure and diplomacy aimed at bringing to an end the conflicts in Ukraine and Libya. The President and President Erdogan also discussed the importance of building tolerant and inclusive societies and combating the scourge of anti-Semitism," it added.
Under the rule of the Islamist AKP party of Erdogan, who used to be the country's prime minister before his recent election as president, anti-Semitism has risen steadily, prompting many young Turkish Jews to leave the country.
That rising hatred has been blamed on vitriolic anti-Israel rhetoric by Turkish leaders and politicians, which often spills over into anti-Semitism.
Israel and Turkey used to be close allies, even at the start of the AKP's rule. However, things soon turned sour as Erdogan drifted towards a "pan-Islamic" foreign policy, attacking the Jewish state regularly, including most notably when he stormed out of a TV interview with then-Israeli President Shimon Peres over Israel's 2009 Operation Cast Lead in Gaza.
Relations reached an all-time low after the 2010 Mavi Marmara incident, when the Marmara ship, which claimed to be providing "humanitarian aid for the people of Gaza," defied orders to turn around and dock at the Ashdod port. After it ignored repeated warnings to change course, the IDF boarded the vessel - only to be attacked by Islamist extremists on board.
The soldiers had no choice but to open fire, resulting in the deaths of nine of the IHH members on board.
After an investigation, Israeli authorities discovered the vessel to be carrying no humanitarian aid - in fact, no aid supplies at all - whatsoever. 
Erdogan has continued to verbally attack the Jewish state even after Prime Minister Binyamin Netanyahu, at the urging of Obama, apologized for the Marmara incident.
The Turkish leader renewed his attacks against Israel during the recent Operation Protective Edge in Gaza. He threatened to end the normalization process with Israel over "state terrorism."
Last week, however, Erdogan publicly shook the hand of an Israeli official, the first time in six years he had done so.
(Arutz Sheva's North American desk is keeping you updated until the start of Shabbat in New York. The time posted automatically on all Arutz Sheva articles, however, is Israeli time.)