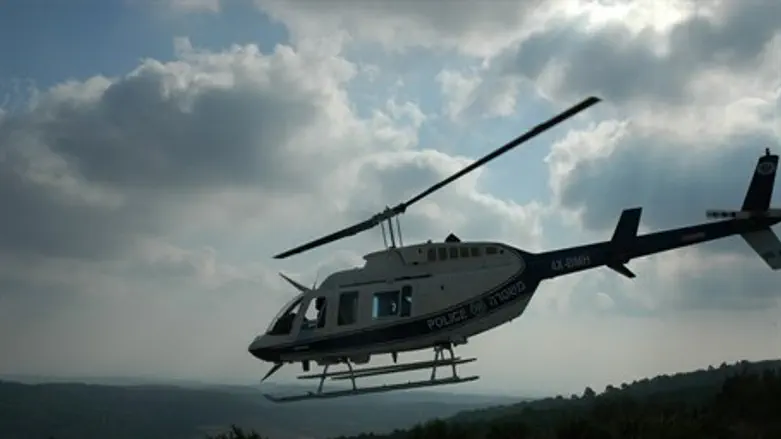 Police helicopter (illustration)
Flash 90
Large police, Border Patrol and Israel Security Agency (ISA) forces were deployed late Tuesday morning to track an Arab terrorist from Samaria, who apparently breached into Israeli territory to conduct an attack.
A few hours after the manhunt began police reported that the search has been called off, saying "the danger of an infiltration incident has lifted and everyone can return to their routines."
The announcement was accompanied by the arrest of two Arab men in the Arab-Israel Galilee town of Taibe, which has been a source of terror in the past.
Roadblocks had been erected at the entrance to Tel Aviv from the Sharon coastal region, as well as in the Netanya area, including Kfar Yona, Tnuvot and Bat Hefer.
Police special forces were scouring the area aided by a police helicopter; the police asked the public to be alert and report any suspicious activity in the area to the 100 emergency hotline.
ISA sounded the warning on the infiltration, passing along information to the police.
"We are treating the alert with great seriousness, and have therefore deployed large forces to the field," a police source from the Central Division told Walla!.
Due to the search there was heavy traffic in the coastal region, with police searching vehicles in addition to combing agricultural land to try and locate the terrorist.
There has been a recent surge in terror activity in Judea, Samaria and eastern Jerusalem. Just last month an Arab terrorist was arrested as he tried to infiltrate Beit El, located in the Binyamin district to the north of Jerusalem in Samaria, armed with a makeshift gun.
Infiltration was lethally used as a tactic by Hamas terrorists in Operation Protective Edge, in which they utilized numerous terror tunnels that had been prepared over the last several years to surprise IDF soldiers. In the attacks, Hamas terrorists even disguised themselves by wearing IDF uniforms.