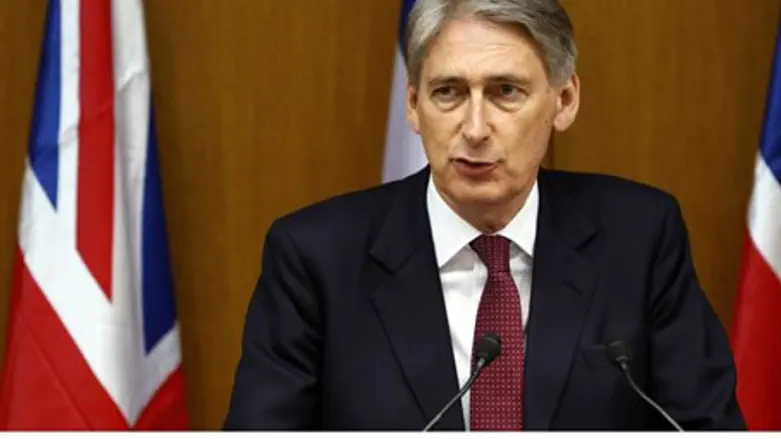 Philip Hammond
Flash90
The British government on Monday said it "deplores" an announcement made by Israel on Sunday, in which the Jewish state declared 4,000 dunams (988 acres) of land in Judea as state land.
"The UK deplores the Israeli government's expropriation of 988 acres of land around the settlement of Etzion," British Foreign Secretary Philip Hammond said in a statement.
Hammond further threatened "this is a particularly ill-judged decision that comes at a time when the priority must be to build on the ceasefire in Gaza. It will do serious damage to Israel's standing in the international community."
The area, located near Gevaot to the south of Beitar Illit, was announced as state land by a spokesperson for the Coordinator of Government Activities in the Territories (COGAT), who noted that "the process was enabled after a thorough examination by the Civil Administration's zoning crew."
The examination to confirm that there were no prior land claims by local Arabs is now to be followed by a month and a half period in which extreme leftist groups and Arab residents can submit petitions in the courts.
The British opposition comes amid a UK governmental position that has been decidedly antagonistic to the Jewish state, particularly during Operation Protective Edge. Early last month, the UK threatened to cancel 12 arms export licenses to Israel if the fighting with the terrorist group Hamas in Gaza restarted following a ceasefire.
US President Barack Obama's administration beat the UK to the punch on criticizing the Israeli announcement however, saying in a Sunday announcement "we have long made clear our opposition to continued settlement activity. ...We urge the government of Israel to reverse this decision."
Government sources on Monday revealed that the international criticism on display is the reason why Prime Minister Binyamin Netanyahu caved in at the last minute, cancelling construction bid announcements for 2,500 housing units in Jerusalem, Judea and Samaria right before they were to be published.
The housing bids were meant to be a response to the abduction and murder of Naftali Frenkel (16), Eyal Yifrah (19) and Gilad Sha'ar (16) by Hamas terrorists; it also was meant to provide a limited answer to the housing crisis Israel is facing.