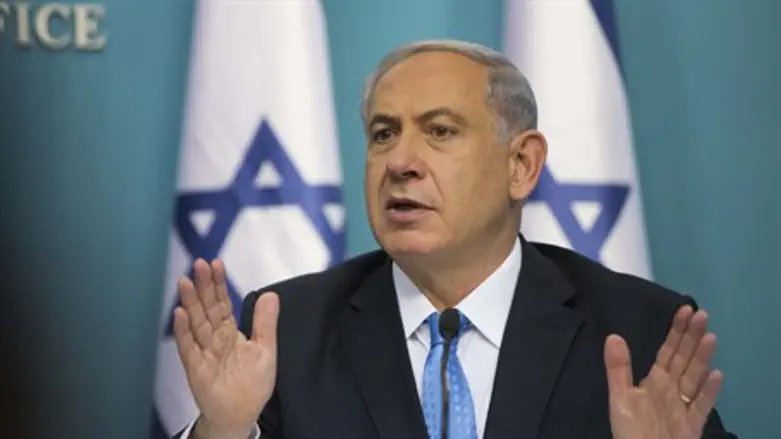 Binyamin Netanyahu
Flash 90
Senior Israeli officials report that Prime Minister Binyamin Netanyahu submitted to international pressure, primarily from the US, and cancelled a planned construction announcement for 2,500 housing units in Jerusalem, Judea and Samaria.
The sources told Walla! that after the June 12 abduction and murder of Gilad Sha'ar (16), Naftali Frenkel (16) and Eyal Yifrah (19), Netanyahu ordered for bids on 2,500 housing units to be published as a response to the murder, which was conducted by Hamas terrorists.
Cabinet Secretary Gen. (res.) Avichai Mandelblit was tasked with drafting the plans for 1,500 units in the Givat Hamatos neighborhood in southern Jerusalem, and another 1,000 units in Judea and Samaria communities including Ariel, Emanuel, and Beitar Illit.
The bid publications were prepared and ready to go - until Netanyahu at the very last minute waffled and changed his mind, canning the plan right before it was to be published.
Apparently Mandelblit told community leaders in Judea and Samaria that the international pressure placed on Israel during and following Operation Protective Edge has led Netanyahu to fear an international "crisis" if he were to announce plans for new Jewish houses.
"The national status after Operation Protective Edge is explosive and complicated," a senior official told Walla!, siding with Mandelblit. "Israel needs to act carefully and not initiate new crises, that will be added to the unavoidable crises created by the operation."
The international pressure was demonstrated on Sunday, when Israel declared 4,000 dunams (988 acres) in Judea as state land - an announcement which was immediately met by a firm condemnation by US President Barack Obama's administration. 
In fact, relations with the US administration have recently worsened, with Obama cancelling a weapons shipment to Israel during the operation and calling for greater scrutiny on future routine shipments, even as Israel is developing ties with countries like China, Japan and India.
Silence from the "right"
Israel is facing a housing crisis, with many criticizing Netanyahu's administration for folding to international pressure and preventing much needed development in Judea and Samaria, an area reportedly over 90% unpopulated.
Netanyahu is said to have admitted in May to instituting an unofficial housing freeze in the region, even after the collapse of peace talks in April. Leaders in Judea and Samaria have confirmed that building plans have been on hold throughout the summer, with senior sources telling Walla! that the situation does not look like it will change anytime soon.
Perhaps surprising to many is the lack of attention on the issue by supposedly right-wing members of Netanyahu's coalition, including the Jewish Home and Yisrael Beytenu party as well as conservative members of Netanyahu's Likud - it is worth noting that the current Housing and Construction Minister, Uri Ariel, is a member of Jewish Home.
Nevertheless, MKs on the right have indeed remained silent, with some of them telling Walla! that they "understand" the international pressure Netanyahu is dealing with, while claiming they are considering taking action if the current situation continues.