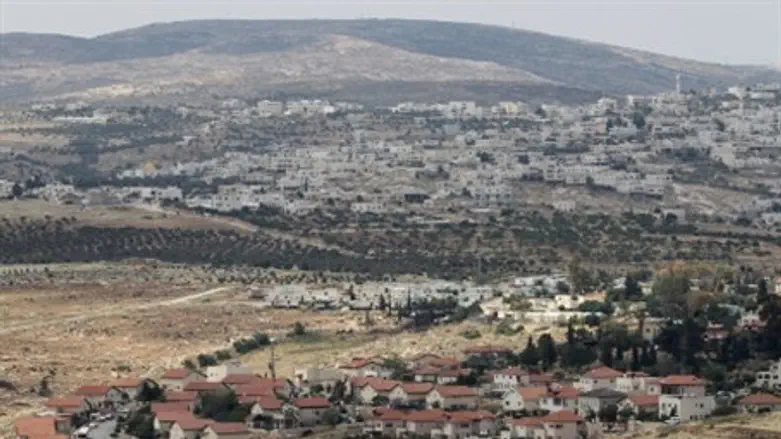 The Jewish town of Tekoa in eastern Gush Etzi
Israel news photo: Flash 90
Palestinian Authority chief Mahmoud Abbas is livid over the decision by the government earlier Sunday to assign about 4,000 dunams (988 acres) of land in Judea and Samaria as state land. Most of the land involved is in the Gush Etzion region. The decision opens the possibility of further construction in the region.
The decision is one of Israel's responses to the kidnapping and murder of Israeli teens Eyal Yifrah, Naftali Frenkel, and Gilad Sha'ar. The three were kidnapped in Gush Etzion and their bodies were found several weeks later in a field near Hevron.
Speaking Sunday evening, Abbas spokesperson Nabil Abu-Rudeineh said that the decision would "bring about a further deterioration" in peace talks between Israel and the Palestinian Authority. "The settlement enterprise is illegal," he said.
An IDF spokesperson said earlier Sunday that the decision was made by the government as a concluding component of the IDF's operation to return the three teens home. Soldiers conducted intensive searches of the area, arresting dozens of Hamas terrorists, as they searched for the missing teens, hoping to bring them home alive.
Gush Etzion Regional Council head Davidi Perl praised the decision, saying that it would pave the path to building a new city in the area. "The purpose of the murderers of the three teens was to sow fear among us, to compromise our daily activities, and to dispute our right to the Land of Israel in general, and Gush Etzion in particular. Our response is to strengthen settlement, enhance our sovereignty over the Land of Israel and Gush Etzion, and to build inside and outside the settlement blocs," Perl said.