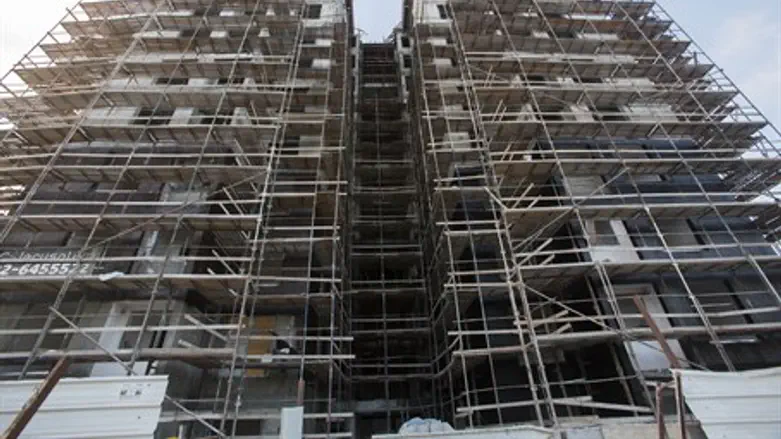 Construction site
Flash 90
It remains to be seen if apartment prices fall when (and if) the 0% VAT plan proposed by Finance Ministry Yair Lapid is enacted into law, but according to a study by the Ministry, the fact that potential home buyers believe it will be put into effect has been driving down sales – and driving up rents. Combined with the ongoing general increase in housing prices that is driving first-time homebuyers out of the market, the zero-VAT plan, the Ministry said, was responsible for a fall of at least 15% in the number of homes sold in June of 2014, compared to June of 2013.
However, that fall may be even greater, because it does not take into account a program that ended last year that allowed renters of public housing to buy their apartments. With that program removed from the equation, the housing sales this June were down over 20% compared to the previous June.
Most of those lost sales are due to the continued increase in housing prices, combined with potential buyers who are waiting for the passage of a law touted by Lapid that will allow them to purchase homes without paying value added tax. The law would automatically cut home prices for eligible buyers by 18%, although it will not be applicable to many homes in communities in the center of the country, as it is designed to strengthen peripheral communities.
Meanwhile, all those non-buyers need to live somewhere – and with a limited number of rental units available, prices for rentals have been climbing as well, the Ministry said. A study by economic newspaper Globes said that over the past seven years, rents had jumped an average of 64.2% throughout Israel – with rents increasing 85% in Tel Aviv, and 73% in the Sharon area. According to the report, more rent increases are on the way, as it is unlikely that the zero-VAT program will be able to serve all those who seek to buy apartments, based on the limitations of the law.