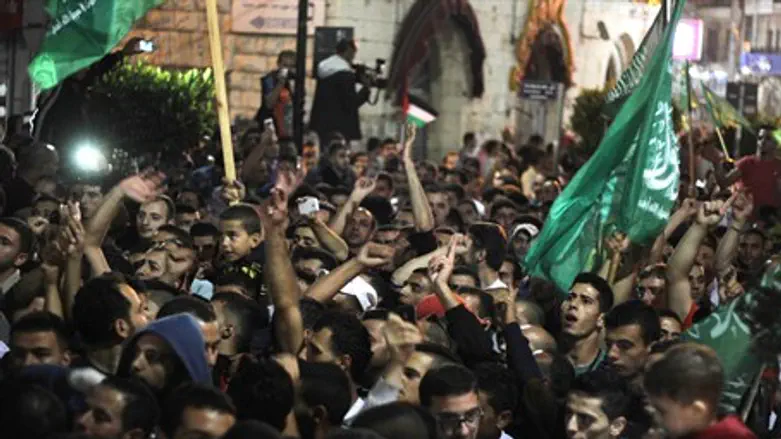 Hamas rally in Ramallah (file)
Flash 90
After Arab citizens of Israel led by radical Arab MKs held a "Hamas victory rally" in the Galilee last Friday, Arab residents followed suit on Saturday in Ramallah, the Palestinian Authority (PA) stronghold in Samaria.
Thousands of local Arabs took part in the rally, which was organized by the Hamas movement in Ramallah in celebration of the hard-hit terrorist organization's supposed "victory" against Israel in Operation Protective Edge.
The rally, held in the Al-Bireh neighborhood of Ramallah, was entitled "The Pledge of Allegiance and Victory." Hamas leaders and parliamentarians in the Palestinian Legislative Council (PLC) from different parts of Judea and Samaria took part in the celebration, accompanied by leaders of other Palestinian Arab organizations.
Horse-mounted Hamas activists led the rally march, waving Hamas flags and singing the praise of Hamas's "military wing," the Ezzedine Al-Qassam Brigades.
Children also took part in the "festivities," parading models of the rockets fired in massive barrages by Hamas terrorists at Israeli civilian centers during the terror war, as well as pictures of senior Hamas leaders assassinated by the IDF in targeted airstrikes.
Khalil al-Haya, a senior Hamas leader in Gaza, gave a speech at the rally via telephone in which he emphasized the right to "resistance" against Israel.
The rally is particularly noteworthy because as mentioned above, it occurred in the heart of the PA governmental center of Ramallah.
The rivalry between Chairman Mahmoud Abbas's Fatah faction and the Islamist Hamas passed breaking point after the latter violently ousted Fatah from Gaza in 2007. Abbas signed a unity deal with Hamas in April, helping to torpedo peace talks with Israel, but tension and mutual recriminations have tested the durability of the deal.
During Operation Protective Edge Hamas on numerous occasions called for an escalation of terror attacks in Jerusalem, Judea and Samaria, calls sounded as recently as last Monday by Hamas politburo chief Khaled Mashaal.
Hamas's position is seen as an attempt to gain support in the PA-ruled areas of Judea and Samaria and strengthen its position over its rival Fatah.
Just two weeks ago it was revealed that the Hamas headquarters in Turkey ordered a large-scale coup of Abbas's new PA unity government by destabilizing the political and security situation through a series of terror attacks on Israelis. Abbas later said the information could have lasting implications for the unity deal between his faction and Hamas.