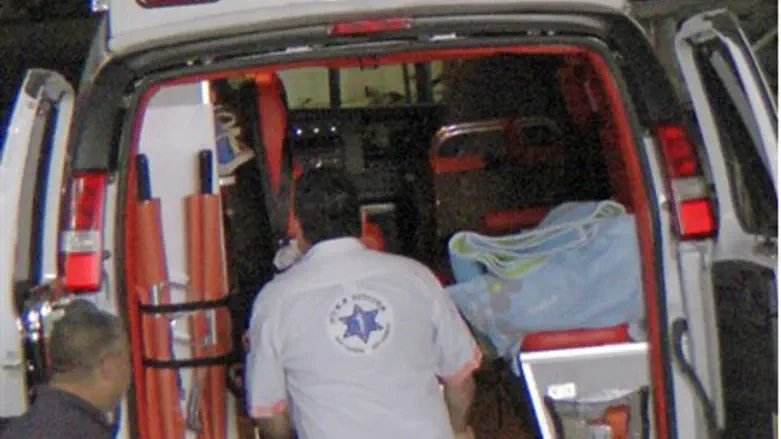 Israeli ambulance
Flash 90
Twenty-five days after a near-fatal attack on Mount Scopus, during Israel's self-defense operation in Gaza, Operation Protective Edge, Sgt. Chen Schwartz was released from Hadassah Mount Scopus Hospital in Jerusalem.
Schwartz's release was an emotional event Friday, after spending nearly a month being treated for wounds sustained by a terrorist on a motorcycle.
The soldier thanked the hospital staff for "giving him a second life."
"I am leaving here with a smile," Schwartz stated.
He added to Walla! News reporters at the scene that he was unable to talk about the attacks while the wounds were still fresh.
"It's not a pleasant experience to relive," he said. "I remember everything, and I would not want to go through that again." 
Dr. Osnat Levzion-Kerach, director of the hospital, also spoke about Schwartz's miraculous recovery. She mentioned the fact that Schwartz as treated alongside Avraham Walles, hy"d, the Beitar Illit resident killed in a tractor attack in Jerusalem on the same day. 
"During the tractor attack, while we were treating the wounded, we get news of a soldier wounded in the stomach [by a terrorist]," she recounted. "That was a nerve-wracking surgery. There was a lot of blood; we were not sure if he would survive or not."
"Every medical team fought [for his life] and we managed to stabilize him," she reflected. "He has a long way to go, but it is very emotional to see him like this today."
"The biggest luck we had is that this attack occurred just meters from the hospital," Chen's mother Miri added. "As soon as he entered the doors, he was being taken care of."
Miri thanked the medical staff for "giving us a lot of strength" and for, in her words, "getting us to smile."
"Today, I feel great relief," she said. "Chen was born to us again." 
credit: Flash90
credit: Flash90
credit: Flash90
credit: Flash90