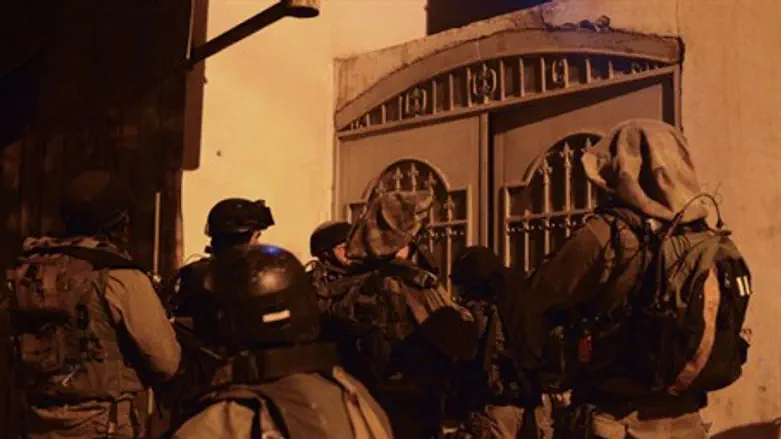 IDF night raid (illustrative)
Flash90
Two terrorists were arrested near Bethlehem overnight Thursday/Friday, due to a joint effort by the IDF's elite Duvdevan unit and the Judea-Samaria District Police, it has been cleared for publication Friday. 
The suspects threw rocks at a vehicle near Beit Ummar last week, causing the driver to lose control and for the vehicle to flip over. The driver, Yedaya Sharchaton, suffered serious injuries from the ordeal; his wife Hadassah and one year-old daughter Nitzan suffered light injuries. 
The Sharchaton family was on its way back to Yatir at 12:30 a.m. on Saturday night after a visit to their parents in Jerusalem. Just after passing Karmei Tzur, directly south of Beit Umar and to the north of Hevron, the terrorists launched their attack on the Israeli car.
The stone broke right through the windshield, striking Yedaya as he drove and causing him to lose control. Somehow he managed to direct the car towards the safety barriers, flipping into the ditch on the side of the road. Hadasah and Nitzan miraculously emerged unhurt from the incident, but doctors are still reportedly waiting for Yedaya to wake up. 
Rock-throwing intensifies
Rock-throwing attacks in Jerusalem, Judea, and Samaria have escalated over the past several weeks, in a series of incidents which often have gone unreported in mainstream media.
Several rock-throwing incidents were reported Friday during prayer ceremonies at the Western Wall for the 79th anniversary of the passing of Rabbi Avraham Yitzhak HaCohen Kook, zt"l, Israel's first Chief Ashkenazic Rabbi and visionary founder of the religious Zionist movement. No injuries were reported.
On Thursday night, a two-year-old girl was lightly hurt when Arabs threw rocks at the car she was in as it was traveling on Highway 60 near Huwara in Samaria. She was treated at the scene by paramedics and did not require hospitalization.
Just 24 hours earlier, an 11-month-old baby girl was lightly hurt when Arabs threw rocks at the car she was in, at Yitzhar junction in Samaria.
The attacks surface just after senior Palestinian Authority (PA) official Jibril Rajoub said two weeks ago that his organization has made a "political decision" to support Arab terrorists "slaughtering" Jews living in Judea, Samaria and eastern Jerusalem, giving them a free hand.