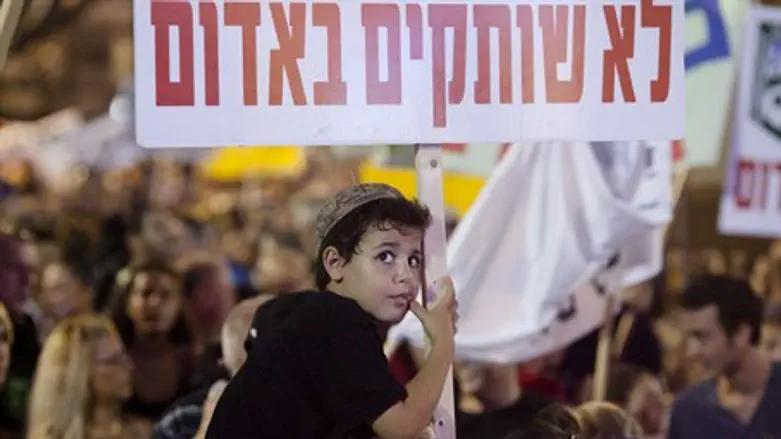 Tel Aviv rally for security in south (file)
Flash 90
Even as Prime Minister Binyamin touted a "great military and diplomatic achievement" against Hamas on Wednesday night, a new poll showed the Israeli public overwhelming disagrees with his assessment - and overwhelmingly disagrees with his leadership.
The poll, which was conducted by Shiluv Millward Brown and iPanel for the Hebrew-language Channel 2 news site, found that a full 59% of Israelis felt Israel did not win in Operation Protective Edge. A paltry 29% said the operation was an Israeli victory.
A decisive majority of the public, 54%, opposed the ceasefire which Netanyahu unilaterally sealed with the terrorist organization Hamas, using a technically to avoid putting the deal up for a Security Cabinet vote. Only 37% supported the ceasefire.
Clearly the disappointment is not directed at the IDF, which 83% of the public said it was satisfied with - instead Israelis apparently are severely dissatisfied with the political echelon, and Netanyahu at its head.
Netanyahu's approval rating nose-dived to a mere 32% in the poll, with a full 59% saying they were not satisfied with him.
Those figures signify an even further plummeting in Netanyahu's ratings; a similar poll two days earlier found that only 38% of Israelis were satisfied with Netanyahu, as opposed to 55% four days prior to that point. At the start of the operation with the ground entry to Gaza, that figure was a whopping 82%.
Criticism has been pouring in from all corners over Netanyahu's apparent unwillingness to take decisive action against Hamas and return security to residents of the south.
Two Israelis in Kibbutz Nirim were killed by mortar fire an hour before the 7 p.m. Tuesday ceasefire, as Hamas terrorists launched a final barrage that lasted up till 15 minutes after the ceasefire went into effect.
Former MK Dr. Michael Ben-Ari picked apart Netanyahu's leadership of the operation on Tuesday night, slamming him for "holding negotiations under fire with a gang of terrorists" - something which Netanyahu swore he would not do a mere two weeks ago.
Ben-Ari likewise quoted Netanyahu, who referenced the Islamic State (IS, formerly ISIS) terror group in Iraq and Syria saying "Hamas is ISIS, ISIS is Hamas." Following through on Netanyahu's comparison, Ben-Ari said "that means that Netanyahu held negotiations with ISIS."