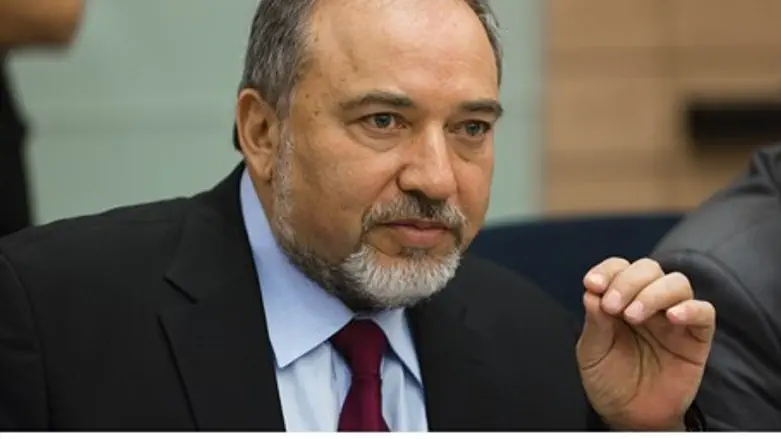 Avigdor Liberman
Flash 90
Foreign Minister Avigdor Liberman (Yisrael Beytenu) on Wednesday launched a verbal barrage on the ceasefire deal reached with the Hamas terrorist organization the night before.
"It is forbidden to make peace with Hamas, and as long as Hamas exists it's impossible to make peace," wrote Liberman on his Facebook page. "As long as Hamas rules in Gaza, it is impossible to ensure the security of Israeli citizens, and impossible to reach a peace agreement."
Liberman was one of at least four ministers on the Security Cabinet who voice opposition to the ceasefire deal; joining him was Gilad Erdan (Likud), Naftali Bennett (Jewish Home), and Yitzchak Aharonovich (Yisrael Beytenu). Prime Minister Binyamin Netanyahu skirted a Cabinet vote on the deal through a legality, avoiding the strong opposition.
In fact, according to Liberman, all six Yisrael Beytenu ministers oppose any ceasefire deal with Hamas and call on Israel not to give the terrorist group any achievements as a reward for its terror war on Israel.
"It's impossible, and we must not, rely on lowly murderers," Liberman said of Hamas. "Therefore, we opposed a ceasefire under whose cover Hamas will be able to continue and grow, and manage additional campaigns against Israel at a time convenient to it."
Hamas as early as two weeks ago clarified that any truce deal would only be so as to plan the next terror war on Israel. That planning likely would include rebuilding the terror tunnel network lethally used against Israel in the operation; the IDF took out over 30 tunnels but others may remain unidentified.
"As long as the Hamas regime is not overthrown - the threat of rockets and tunnels remains. We must stand firm on Hamas not receiving any diplomatic achievement thanks to this ceasefire," emphasized Liberman, calling for a war without compromise against the terror group.