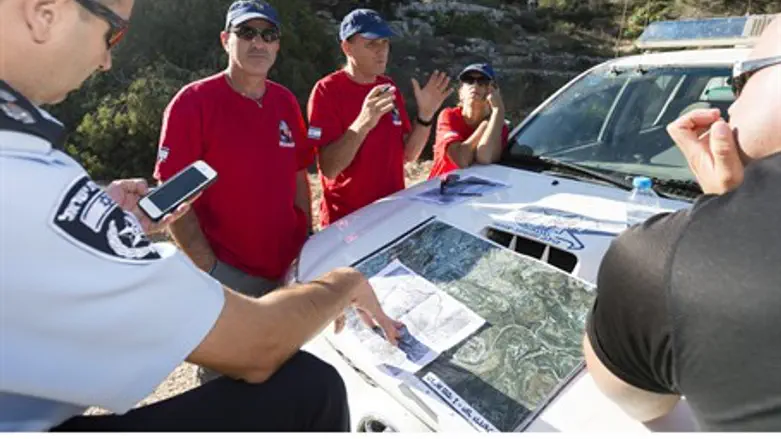 Search for Aharon Soffer
Flash 90
Four days have passed since the disappearance of Aharon Soffer, a 23-year-old hareidi yeshiva student from America who was last seen last Friday around noon in the Jerusalem Forest.
Soffer's family members expressed their great anxiety for his welfare, an anxiety has been heightened by rumors that he may possibly have been abducted. Three Israeli teens were abducted and murdered by Hamas terrorists on June 12, and fears over potential copycat crimes have remained since.
Those fears were heightened after the revenge killing of an Arab youth soon after the murdered boys' funeral in July. Mohammed Abu-Khder's body was discovered in the Jerusalem Forest the day after he went missing.
In the last two days the police decided to involve the Israel Security Agency (ISA) in the search for Soffer, after initial efforts turned up no results.
Likewise members of ZAKA, a disaster rescue organization, have been actively leading the search, aided by many dozens of volunteers. Also part of the search is a jeep unit, ATVs (All-Terrain Vehicles), a canine squad, all combing the area since Shabbat as yet to no avail.
"We don't know how to deal with this," a family member of the missing youth told Arutz Sheva. "They tell us that there are fears for his life, and there still isn't even a thread to go on, but what's driving us crazy are the rumors of an abduction."
The family member noted on the war in Gaza and growing terror in the Jerusalem area, adding "in days like these when there is tension about security, this is the worst scenario that we could have imagined."
Judea and Samaria police rescue units are helping the Jerusalem police to search for Soffer, who is of a lean build, and is 1.75 meters (5'9'') tall, has a short red beard and wears glasses. He was last seen wearing black pants, a white shirt and a black kippah.
Soffer hails from Lakewood, New Jersey, and was visiting Israel to learn in a Jerusalem yeshiva.
One of the sources helping in the search told Arutz Sheva that the danger to Soffer's life increases with each hour that passes, saying "each passing hour that he doesn't contact us raises the concern that he is unable to contact us. There is definitely a fear for his life. Therefore, we ask for the help of the public."
The police have requested the help of the public, and ask anyone with any pertinent information to immediately contact the Jerusalem Police at 02-5391520, or the 100 emergency police hotline.