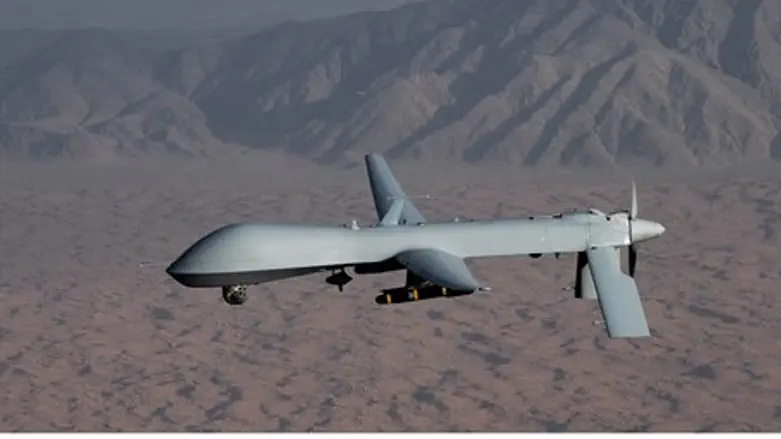 Unmanned drone (illustration)
Reuters
Hours after Iran claimed it had brought down an Israeli stealth drone above the Natanz uranium enrichment site, a senior Iranian official said on Sunday that parts of the drone remained intact.
General Ramazan Sharif, a spokesman for the Iranian Revolutionary Guards, was quoted by The Associated Press (AP) as having told Iranian state television that officials believed the drone to be a "new generation" drone used by Israel.
"Major parts of the devices of the drone are intact and have been received by our friends that can be used for further information," Sharif was quoted as having said.
He did not say when the aircraft was shot down, but said it was "identified upon arrival in Iranian airspace."
Sharif said authorities allowed it to fly for a short time to determine its destination.
Iranian parliamentarian Alaeddin Boroujerdi, the head of an influential parliamentary committee on national security and foreign policy, also told a news website associated with Iran's armed forces that the "point of departure" for the drone should be determined, suggesting it likely flew in from one of Iran's neighbors.
In 2011, Iran reported that its military forces had shot down the Lockheed Martin RQ-170 stealth UAV.
The U.S. later admitted that one of its drones is in Iranian possession but did not say that the Iranians shot down the spy plane.
Iran's nuclear program has been the target of espionage and sabotage efforts in the past, noted AP on Sunday.
In 2010, the so-called Stuxnet virus temporarily disrupted operation of thousands of centrifuges, key components in nuclear fuel production, at Iran's Natanz uranium enrichment facility.
Last December, Iranian news agency Fars claimed Israel and Saudi Arabia were teaming up to launch an updated version of the virus.
In March, Iran claimed it identified and neutralized a sabotage attempt at Arak heavy water nuclear reactor.